Graham Vickery a.k.a. Shakey Vick on harmonica and vocals is a true veteran of the U.K. r&b circuit. (And outside that circuit too: he contributed harmonica to Elton John's first album, "Empty Sky", in '69!)
Once upon a time he led an outfit called the Down Home Blues Band a.k.a. Shakey Vick's Big City Blues Band. This band at one time featured the vocalist Chris Youlden who then left for Savoy Brown and greener pastures (and green back dollars).
In Bob Brunning's excellent book "Blues - The British Connection" Chris Youlden says of the period he was involved with the Shakey Vick band:
"We did a couple of gigs for Giorgio Gomelsky, which we got because we entered an r'n'b competition at the Marquee. We didn't get anywhere, but he liked us, and gave us a couple of gigs. Nothing much came of it afterwards, but that was our main claim to fame!"

Giorgio Gomelsky, in case the name eludes you, was the man who wanted to manage The Rolling Stones, lost them, and then became the first manager of The Yardbirds - way back then.
Shakey Vick's Big City Blues Band was a bit of a 'purist' blues band, considering the competition. Formed in the summer of '66 and played its last gig with the following lineup on April 7 '68:
Shakey Vick: harmonica, vocals
Rod Price: guitar (to Dynaflow Blues and Foghat)
Ron Skinner: bass, vocals (to Dynaflow Blues and The Nighthawks)
Mel Wright: drums (to Dynaflow Blues and The Nighthawks)


In 1969 the album Shakey Vick: "Little Woman, You're So Sweet" was issued on PYE, featuring the following lineup:
Shakey Vick: harmonica, vocals
Bruce Lang(s)man: guitar
Dave Hutchins or Nigel Tickler: bass
Ned Balen: drums

In 1981 (i.e. twelve years later!) the next album was issued by the Italian enthusiast label APPALOOSA. Called "On The Ball" and carried the catalogue number AP 022. This seems to be Mr. Vickery's own favourite album. See far below!
The British Blues Review, December '88 wrote:

"Shakey has two Sunday residencies. Lunchtimes are spent at The Station Tavern with his Sunday Joint. This band usually features Blues Burglars' John Whitehill, guitar, Strawbs' Rod Demick, bass and vocals, and Yardbirds founder members, Top Topham, guitar and Jim McCarty on drums.

The evening residency is with his other blues band, featuring Rocket '88's Jimmy Roche, guitar and Roger Sutton, bass, in addition to Al Vincent, guitar and Tony Balch drums, at the Carnarvon, Camden."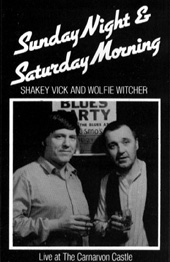 I've got a nice little cassette on my shelf:
Shakey Vick Blues Band: "Sunday Night & Saturday Morning".
A fun cassette, live and sweaty - shared with Wolfie Witcher and His Brew. Recorded at the Carnarvon Castle, Camden, London for ELEFANZTRUNK RECORDS. Cassette no. ET2004-C (1989).

Lineup:
Shakey Vick: vocals and harmonica
Jimmy Roche: guitar
Al Vincent: guitar (also with the De Luxe Blues Band)
Roger Sutton: bass and vocals (also with Crucial Blues)
Tony Balch: drums.

I saw Shakey Vick's band in London at roughly the same time, in that very pub (although the cassette I think I found in 100 Club's shop). I distinctly remember two extremely competent guitarists, sharing the lead work between themselves. Messrs. Roche & Vincent?
Big Joe Louis mailed me (July '98): "By the way, you asked about Jimmy Roche playing with Shakey Vick - the tall guy with the beard is Al Vincent (who still sometimes plays with Shakey) and the smaller one with glasses was Jimmy Roche."
Thanks!
In May 1989 The 100 Club proudly presented Shakey Vick & His Combination Boogie.
A different combination of musicians - or simply a temporary change of name?

In 1990 Shakey Vick issued the album "Night After Night" (VB001) on his own VICKSBORO label. See below for lineup!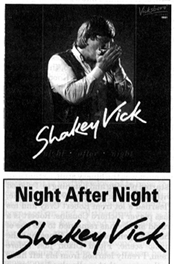 Mr. Informative, Big Joe Louis, wrote me on Sept. 16 1998:

SHAKEY VICK:
He had an LP on his own Vicksboro' label in 1990 "Night After Night" (VB001). It features his regular band of the time (Jimmy Roche/Al Vincent/Roger Sutton/Sam Kelly) with Jonathan Digby (gtr), Bernie Pallo (gtr), Rod Demick (bass gtr), Tony Balch (drums).

Bernie is French and played with me in the early days - he's great. Rod was in The Strawbs/The Wheels (Irish r&b group from 1965-67)/Meal Ticket/Bees Make Honey/The Bucks (with Ron Kavana/Terry Woods). He's on Johnny Whitehill's solo CD.
I had the pleasure myself of meeting Mr. Vickery in August '98 in London, at 'The Station Tavern' and 'The Favourite' pubs. A perfect gentleman. There was a birthday party going on at 'The Favourite', so he sang a few songs and played some mean harp with the blues 'super group' at hand. I hadn't seen or heard Shakey Vick on stage for ten years, and I realized what I had been missing.

When I asked him about his favourite album in his own discography he did not seem too satisfied with any of them. But he thought the APPALOOSA one was the most representative one.
We got a guest book notation by Mike Piggott in Jan. 2000:
"Play occasional violin/guitar with Shakey Vick Blues Band + played with GASS 1970 (album featured Peter Green on 2 tracks) + recorded with Joanne Kelly. Keeping in touch with blues gigs. Now playing "Stuff Smith" style fiddle. Recent CD release "Blues for Stuff & Steph" going well.
Mike Piggott

Dynaflow Blues (U.K. blues band from way back in '68 - see above) was initially to reform surprisingly in 2000 for one CD to be issued on the U.S. BURNSIDE label. Original members were Shakey Vick (vcls, harp), Rod Price (guitar, ex-Foghat), Ron Skinner (bass, vcls) and Mel Wright (drs).

The end product became the reputedly excellent album "Open" by Rod Price issued as BURNSIDE BCD 39 (2000), feat. Shakey Vick (lead vocals & harp) and Rod Price (guitar) plus Bruno Ravel and Tom Dawes (bass), Kenny Landrum (keyboard) and John O. Reilly (drums).
Albums listing:
Too little research so far, but:


"Little Woman, You're So Sweet" - recorded live Nov. 23 '68 at "Mothers Blues Club", Birmingham, the U.K. - issued as PYE NSPL 18276 (1969)


"On The Ball" APPALOOSA AP 022 (1981)


"Night After Night" VICKSBORO VB001 (1990) /his own label/


Rod Price: "Open" BURNSIDE BCD 39 (2000)