---

Peter Green: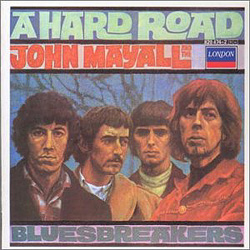 Legendary British Les Paul ace who passed through Peter B's Looners, Shotgun Express, John Mayall's Bluesbreakers ("A Hard Road") and then founded Fleetwood Mac.
Left the music biz (and everything else) after serious stock taking of his life as rich idol.

Perhaps the best tone and touch ever amongst the "white blues guitar heroes" (lovely dated expression). At least that's what B.B. King says - and he should know.

Peter is having a sort of comeback these days with the Splinter Group. He has also issued (1998) a new CD: 'The Robert Johnson Songbook' on ARTISAN RECORDS. Sixteen Robert Johnson numbers, performed by Peter with his trusty ramrod Nigel Watson. For news on Peter Green, check out the link below regularly.
Meanwhile, go and put on "The Supernatural"!
---
Guitars and Amps Dept:
Gary Moore in interview in "International Musician and Recording World", Sept. '81:
"The main guitar I use is my old 1959 Gibson Les Paul Standard. It's a flametop maple with PAF pickups that I bought from Peter Green years ago. That is the guitar."
I know you will treat it reverently, Gary!
There are speculations that Peter used a Stratocaster in the studios and the Les Paul on stage only. Possible? We'll try to dig for more info and come back later!

In a current interview in Swedish guitar magazine "Fuzz" Feb. '98 Peter Green says:
"I have loads of guitars, I collect them..."
"But on stage I use a Stratocaster and a Gibson Howard Roberts. And then I have more Strats. I just bought an Epiphone Gibson Special, a new model... I have quite a lot of guitars...two Nationals and then I have an old Harmony..."
"And I have a Kay called Jimmy Reed."
Strings?: "I have 009 on the old guitars, otherwise I have 010 strings. I prefer them."
Amps?: "I have a wonderful old Vox I like for sentimental reasons. No, not only sentimental reasons - it's a wonderful old thing."
"And then I have a Fender Blues De Ville. Two speakers are blown. I don't know who did it. It's got 4x10" instead of 12". It's perhaps a little different from everything else. I am quite anxious to use different things and I'm not going to touch a Les Paul again."
Why is that?: "The Les Paul has been misused by beginners and people in the music trade. They have not been sensitive enough for such a beautiful instrument. To me, the Les Paul is something you put in a museum of music..."
Links:
The Peter Green Website
Peter Green - Fanpage Deutschland
The Musicians' Olympus: excellent page on Peter Green!

---