---

Chuck Farley:


Boom Boom Club @ Sutton Utd FC

Borough Sports Ground, Gander Green Lane, Sutton, Surrey SM1 2EY

Sunday 21 august 2005

Bookings 0178 446 00 94 – Info 0208 460 4907 /www.feenstra.co.uk

Press Stop: Read about this great reunion here - courtesy the extremely helpful Mr. Pete Feenstra.
---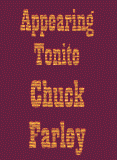 Chuck Farley: A band appearing in "Capital M" listings and pub calendars in the late 80's. I knew zilch about this band, really - I didn't even know if Chuck Farley was a musician or simply a band name. But the band's lineup looked very promising.

Steve Kennedy helped me out (again) by providing me with the enchanting history below courtesy Steve Simpson himself (additional snippets in brackets are added by yours truly).

And the name itself? Well, on Aug. 17 2001 I received this message from Rick Jones (on keyboards, vocals, guitar in the band Meal Ticket, feat. Steve Simpson a.o.):

"Hi - just a note: "Chuck Farley", is a derivation of "Chuck You Farley", which is a derivation of "Fuck You Charley". "
So there! Now into Steve Simpson's history:

"Chuck Farley, as a band, started with their first gig on March 16th, 1980, at the Red Lion pub (now demolished), in Brentford, Middlesex, West London.
The founder members had all been involved musically in earlier projects over the years, and initially the music was gently Country-rock, with leanings towards Little Feat, The Band, Ry Cooder and the late Roy Buchanan, plus, of course, touches of Rock'n'roll via Chuck Berry, Delbert McClinton and various other heroes.

Steve Simpson, vocals, guitars, fiddle and mandolin, and
Jack Brand, bass and vocals,
had been working together on and off since The Tumbleweeds, a country band, then on to Bill Esher and the Beacons, with Steve's brother Bruce on mandolin and vocals, in a band which later became Meal Ticket.
Alan Coulter, drums, had been a well respected friend, and player with Bees Make Honey, before joining Meal Ticket after Chris Hunt left the drummer's seat. (Mr. Coulter later joined Hershey & The Twelve Bars and Papa George).
Pete Willsher, pedal steel, guitar, vocals had also been a well respected friend and session player over the years, and completed the line-up, as well as wonderfully distorting the "group humour".

Having done a few gigs together, the matter of a group identity, or name, arose. Pete Willsher, having a bent towards Spoonerisms, suggested various names, in the vein of "Knee of an Idol", instead of Eye of a Needle, for instance, and after one particularly hilarious non-starter, Jack Brand retorted that he wasn't going out under that name... "Chuck you, Farley". Instant response from all, and that was the birth of Chuck Farley, the band name.
Now, Chuck, the alter-ego was tentatively christened Chester Ulysses Farley... hence Chuck U Farley, but was always referred to as the missing member of the band.

After a meeting with Tim Hinkley, keys, and Boz Burrell, bass at a party/gig in Twickenham, Steve was invited to play with Hinkley's Heroes, a group of friends who gathered at irregular intervals to play, with various guest singers, sax players, guitarists etc. but always with the same rhythm section of Tim Hinkley, Boz Burrell and drummers John Halsey, from Patto and the Rutles, and Mitch Mitchell of Jimi Hendrix fame.
Through this association, Geoff Whitehorn, guitar hero, and Poli Palmer, of Eclection and Family (late '69 - late '72), both came to join the growing Chuck Farley family, as did, on occasion, Roger Chapman, Kiki Dee, and Linda Ronstadt, along with saxist Nick Pentelow, of Roy Wood's Wizzard and Roger Chapman's Short List, Tim Hinkley and Boz Burrell. Along the way, The Chucks had been graced by the talents of Andy Winfield, vocals and guitar (with Juice On The Loose), Willy Finlayson, vocals and guitar from Meal Ticket, and a wonderful assortment of players and singers they were too!!

Later in the life of Chuck Farley, the line-up was to include:
Sam Kelly on drums (to Crucial Blues),
Poli Palmer on vibes and synth,
Pete Stroud on bass and vocals, currently playing with Peter Green's Splinter Group (also with Steve Waller's Overload, the ed. says),
Pat Crumly on saxes, flute and vocals, currently fronting the Ronnie Scott Quartet, and
Steve Simpson, who had started the whole damn' thing.

Other players temporarily involved had been Bobby Tench, from Streetwalkers, guitar and vocals, Mick Clewes on drums, the late Marty David on bass, even a guest appearance at the Golden Lion in Fulham from Steve Gadd, drummer and percussionist from the Crusaders and other luminaries.

Here, in late 1998, Chuck Farley in the most recent form, or as near as possible, tends to re-group two or three times a year to dust off some old favourite tunes, have as much musical fun as is available, and reminisce...
26th November 1998"


Chuck Farley on stage in 1988

The Swan, Fulham Broadway, London wrote in their April '88 calendar:
"Another one to get your tongue round: Chuck Farley" (gig on April 14, '88).

And P.F. of "Capital M" wrote in the July '88 issue:
"...a blistering gig at the Swan in Fulham. Poli Palmer was in great form leaping around like a 10 year old while the new backline partnership of Sam Kelly and Pete Stroud sounded as if they had played together for years. The band's master stroke as ever was Steve Simpson... one of the hardest working men in show business, battling on despite having his favourite guitar stolen."
Lineup in '88 included:
Steve Simpson: guitars
Poli Palmer: vibes and keyboards
Pete Stroud: bass
Sam Kelly: drums



Links:
"Strange Band": an excellent Family website with a history page (without Chuck Farley) on Poli Palmer

Steve Kennedy: if you wish to contact this illustrious congregation of musicians!



---