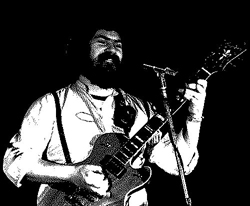 June 30 1951 - Febr. 6 2000
A colourful veteran guitarist & vocalist from the South London pub circuit, often found jamming with old pal Stevie Smith (Ruthless Blues) on harp.

Guitarist with The Attack from 1979/1980, first guitarist with Hershey & The 12 Bars (1981).

Hit it big as member of Manfred Mann's Earth Band 1979 - 1983, then returned to the pub gigs (The Half Moon, Herne Hill was a regular hangout) as leader of Steve Waller's Overload.
Tracing some albums featuring Steve Waller:
---
Roger Ruskin Spear: "Electric Shocks" UA UAS 29508 (1972)
---
Soul/jazz/funk with:
Gonzalez: "Haven't Stopped Dancin'" SIDEWALK SWK 2001 (1979)
Gonzalez: "Shipwrecked" CAPITOL (US) SW 11855 (?)
---
Who is this guy? A jazz saxophonist/flutist?
Raphael Ravenscroft: "Her Father Didn't Like Me Anyway" PORTRAIT 35683 (1979)
---
Playing on the BIG stages: MMEB member 1979 - 1984:
Manfred Mann's Earth Band: "Angel Station" BRONZE BRON 516 (1979)
Manfred Mann's Earth Band: "Chance" BRONZE BRON 529 (1980)
Jimmy Hibbert: "Heavy Duty" LOGO 1021 (1980): assorted MMEB folks plus a.o. guitarist Geoff Whitehorn.
---
Southside: "Southside United Vol. 1" AB-FAB Records AB CD 007 (recorded 1981/1982, issued 1998).
Quote from Southside web page listed below: "Local heroes Steve Waller and Stevie Smith jammed regularly with the band. Steve Waller became a permanent addition, blending in perfectly with his superb guitar playing and outstanding vocals."

---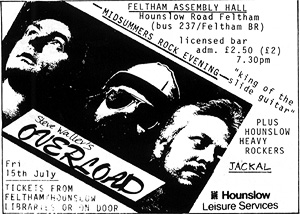 Steve Waller's Overload: "Night Life" CD (long overdue - recorded 1990, issued 2000) was reviewed in Blueprint Magazine, June 2000. Not much blues on this 45 minute set apart from the title cut - but still a fitting tribute to a much missed musician, the reviewer says.

Lineup of Overload on above CD:


Steve Waller: guitar, vocals
Pete Stroud: bass (Chuck Farley, Ruthless Blues, Peter Green's Splinter Group)
Glen Le Fleur: drums (with Gonzalez mid 70's, The Attack)

Advertisement to the right is copied from "Capital M", July 1988.
---
Check out the great Steve Waller photograph that Jean Cheesman so kindly sent to us!
---
Links:
Manfred Mann Website: A tribute page
Dick Lovejoy's Southside United web page (from which I borrowed b/w photo above left. Thanks!)
"Southside United Vol. 1" - a page of Mikael Sandberg's excellent Geraint Watkins site