---

Stone the Crows - their history - by Chris Welch:

Melody Maker journalist - and more - Chris Welch wrote the liner notes on the "Teenage Licks" sleeve, when this great album was re-issued on CD (1996):
---
Stone The Crows were flying high when they first unleashed 'Teenage Licks' on the rock world. The Scots band fronted by powerhouse singer Maggie Bell were winning popularity polls, selling out concerts and aiming their sights on America. They were managed by Peter Grant, the man who had brought Led Zeppelin to fame, and the group were rated as one of the best of a new crop of blues rockers. By 1971, when Teenage Licks was released, Stone The Crows were all set to rival such bands as Free and Bad Company.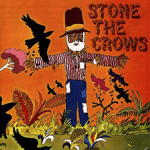 The band had been born out of the thriving Scottish group scene centered on the tough but musically aware city of Glasgow. Maggie Bell's unpretentious vocal style and down to earth manner endeared her to many fans. Some enthusiastic critics hailed her as the natural successor to Janis Joplin. Born in Glasgow on January 12, 1945, Bell had teamed up with excellent young guitarist Leslie Harvey, the younger brother of singer and band leader Alex Harvey. As teenagers Maggie and Les had played in the bands that provided entertainment on the city's club and ballroom circuit. It was a tough musical upbringing but it would bear fruit. Maggie came from a musical family and her father played the organ while her aunt was a famous music hall performer. One day her mother spotted a newspaper advertisement. The band at the Locarno ballroom needed a singer. Maggie went along, passed the audition and joined a splendid 15 piece orchestra, covering the latest hits by Shirley Bassey. Maggie soon found herself earning £70 a week singing at the ballroom, which was much better than the pittance she was earning as a trainee window dresser. "It was big bucks!" says Maggie.
It was fun too, but after a year or so, she yearned to join the trendy young rock band that shared the Locarno ballroom's revolving stage with the big band. She made the switch to rock and later in 1967 Maggie gained more invaluable experience when she toured American airforce bases in Germany with a group that included Les Harvey and brass players Bill and Bobby Patrick. "I learned so much about music out there, and I also bought loads of great blues and soul albums at the PX on the bases, which I still have". The German trip ended and the band had to return to Scotland following the dramatic assassination of Martin Luther King in the States. All foreigners were 'off limits' at U.S. military bases during this crisis period. Back home Maggie and Les formed a new group called Power, which became a regular attraction at Glasgow's Burns Howff.
The band featured John McGinnis on organ and Jimmy Dewar on bass, who had played with Lulu and the Luvvers and would later join Robin Trower's band. John and Jimmy were already playing at the Burns Howff, which was the 'in place' in Glasgow. After Les and Maggie sat in one afternoon they decided to form Power which drew more crowds than all the other bands in Glasgow put together. Then an opportunity came up for Les that was too good to miss. Says Maggie: "A Scots band based in London called Cartoone were going to the States and their guitar player dropped out at the last minute. So a guy called Mark London who wrote 'To Sir With Love' and other hits, and who later became our producer, 'phoned Les. He explained they needed a guitarist to tour America with Cartoone. It was like 'Wow - America!' We said to Les 'Go, go - this is the chance of a lifetime!' We could easily get another guitarist. So Les went off for two months and during his trip he played with everybody - even the Allman Brothers.
He came back a totally different person, wearing long hair little John Lennon glasses and a fringed suede jacket. He had a new Stratocaster too!' Les told Power they should change the whole concept of the band. They should stop playing covers at the Burns Howff and start to write their own songs. 'That's when we all started to write music. We changed everything'. Next cam a call from Mark London who wanted to bring a friend of his called Peter Grant to hear them. Peter liked what he heard but it wasn't until he heard Maggie singing in the recording studio that he realised she was such a good singer. Says Maggie: 'The band had been so loud at the gig they couldn't really hear me. When I opened up my mouth in the studio that night they all came over and said 'Fabulous voice!''
Peter and Mark London signed Power and became their managers in 1969 and the band promptly changed it's name to Stone The Crows. At the same time they brought in drummer Colin Allen who had previously played with Zoot Money's Big Roll Band and John Mayall's Bluesbreakers. The new group released its first album 'Stone The Crows' (Polydor) in 1970. Jim Dewar shared some of the vocal duties with Maggie and co-wrote some of the material. Les Harvey's guitar work was impressive and the band began to make waves throughout the country. Alas the band couldn't get a hit and this Led to some grumbling and feelings of disappointment.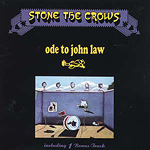 After they completed their second album 'Ode To John Law' (1970) John McGinnis and Jimmy Dewar both quit. McGinnis had contributed three songs to the album including 'Sad Mary', 'Love', and 'Things Are Getting Better'. He and Jim were replaced by Steve Thompson (bass) and Ronnie Leahy (keyboards).
Ironically the band's next album 'Teenage Licks' proved to be their most successful. It featured some great cuts like 'Big Jim Salter' and 'I May Be Right I May Be Wrong' and a cover of Dylan's 'Don't Think Twice'. Says Maggie: "We used to do that in the stage set, it was such a great song. 'Ailen Mochree' was a wee Gaelic song that my Grandmother used to sing to me and I thought it would be nice to perform it between the rock songs and it worked very well. 'Seven Lakes' was a Ronnie Leahy song which was a very classical type of piece with a big piano accompaniment using lots of echo." Stone The Crows became a popular touring band often featured on the major rock festivals and and the package shows of the day. As the band's profile improved, Maggie Bell won the Best Female Vocalist award in the annual Melody Maker Readers Poll.
Tragically, just when it seemed as if Stone The Crows were going to emerge as a major international attraction, Les Harvey was electrocuted by his guitar and died on stage during a gig at Swansea's Top Rank Ballroom on May 3, 1972. Bravely the band decided to carry on and at one stage contemplated recruiting Peter Green from Fleetwood Mac. He spent some time rehearsing with the band but Peter was going through some difficult personal changes. Two days before their first gig was due at the Lincoln Festival, he rang the band to say he couldn't make the show. They hastily brought in another young Scottish guitarist, Jimmy McCulloch from the Thunderclap Newman band. Jimmy would later go on to play with Paul McCartney's Wings. Stone The Crows finished off the band's scheduled fourth album 'ontinuous Performance' released in 1972, but despite Peter Grant's encouragement the heart had gone out of the group, which had never really recovered from Les' untimely death. The band broke up in 1973. Says Maggie 'Jimmy was a great guitarist and like a brother to me, but we had a meeting at the office one day and we all agreed it was the end of an era'.
In the aftermath Maggie Bell released two well received albums produced by Jerry Wexler, 'Queen of the Night' (1973) and 'Suicide Sal' (1975). She toured with both albums and also did a rather traumatic tour of the Deep South as a guest with Earth, Wind and Fire. The audiences were told to expect a singer from Scotland but from the reaction, she could have come from Alaska. 'They just sat there with their mouths hanging open and couldn't believe me. It was like 'What are we gonna do with this woman? Do we give her a hand or what?'. One night Maggie asked Brian Gullivan, her road manager, to put a screen in front of the microphone. 'I said to Brian - I'll sing behind the screen then after the first song you come on and take it away.' I just wanted to prove something. So I sang magnificent. When Brian came on and took the screen away their mouths hung open. Working with Earth, Wind and Fire was one of the strangest experiences in my life.' AFter spending some years on the road touring and recording two more albums that weren't released, Maggie settled down, buying a house in Barnes in England. 'I was able to put my life in order and spend some time at home with my family'. Although the pace of life slowed down after the hectic years with the bands Maggie remained active and went on to do acting roles and wrote music for films and TV. She now lives in Rotterdam, Holland and is keen to record a new album.
'Last year I did a tour of Scotland with the old Alex Harvey Band. We did nine gigs and it went down a a storm. I did a lot of Alex' songs and a lot of my own. For three years I also toured with Chris Farlowe and that was fabulous because he's still got one of the best voices I've ever heard. I have to keep busy. I could never give this business up!'. Maggie had fond memories of the good old days with Stone The Crows. 'We were a great college band, and it was wonderful to be around in those days. Some nights we played with Roxy Music, David Bowie and Marc Bolan. It was unbelievable! In the states we toured with Frank Zappa, Edgar Winter, The MC5.
Stone The Crows hadn't really written anything before we did our first album, so I think our music was very good for the times! When you consider that it was all done 25 years ago, it doesn't sound too bad!'
Chris Welch
---
Back to main page.

---