---

Paul Kossoff: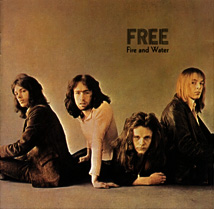 Lead guitarist with in turn Black Cat Bones, Free and Back Street Crawler.
The first group already featured drummer Simon Kirke. Then they found vocalist Paul Rodgers (then in Brown Sugar) and finally bassist Andy Fraser who had left John Mayall's Bluesbreakers abruptly. So in 1968 Free - at first called Free At Last (Alexis Korner gave away his band's name to them) - was born.
I never saw Free live on stage in London in those days - but their hit single "All Right Now" was heard everywhere. It holds up very well today. "A stomp-rock classic" Mr. Farber (below) says. And the "Fire And Water" album (1970) was played endlessly in the "progressive" radio programs.
---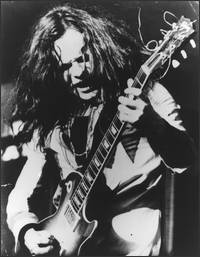 Jim Farber in a very good article in "Guitar World" magazine, May '83:
"In the late sixties, when Kossoff emerged as ax-man for the British band Free, Clapton was God and the archetypal guitar hero was supposed to play fast and long. Kossoff dared to play slow and short. As if fulfilling Clapton's nickname without irony, Kossoff was sometimes the real "slowhand". Yet his work was never lax; rather it was pithily dramatic, highlighted by shimmering high notes and the most exaggerated and distinctive tremolo coaxed from a guitar this side of Quicksilver's John Cipollina. Kossoff's tremolo, even in its most aggressive guises, was a sadder sound - a true "tremble-o". Unfortunately this anguished trademark is an all too appropriate emblem for a life which became deeply troubled and was then cut short."
---
Free issued - irregularly - seven albums. "Fire And Water" ILPS 9120 (1970) seems to be considered the most successful. Cover depicted above at top of page. Features excellent songs like "Fire And Water", "Oh I Wept", "Mr. Big" and "All Right Now". Quite a good collection...
---


After breakup of Free Rodgers and Kirke formed Bad Company mid '73 with Mick Ralphs on lead guitar. A more streamlined version of Free which met with considerable commercial success.
---
Kossoff in his turn issued solo album "Back Street Crawler" in Nov. '73 and later went on the road with a band he also named Back Street Crawler.
Album, "The Band Plays On", followed in 1975. Full scale touring was planned but on March 19 1976 Paul Kossoff died due to heart failure - 25 years old.
2nd Back Street Crawler album, "Second Street", was issued in 1976. Features guitar playing by Paul Kossoff and by Geoff Whitehorn.
---
Guitars and Amp Dept:
Paul Kossoff's equipment during the Free years:
Guitar: Gibson Les Paul
Amp: Marshall top with homemade bottom with 4x12" for the first year and a half. Then a regular 100-watt Marshall stack.
---
Links:
Free - Bad Company - Paul Rodgers fan web site
The Back Street Crawler fan page
www.paulrodgers.com
www.bad-company.com

---