---

John Mayall: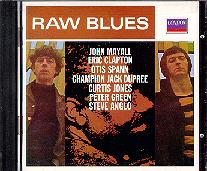 John Mayall is of course the Godfather of the U.K. blues scene. You cannot take that away from him. And his taste in musicians is often impeccable. But I admit that I pay more attention to his guitarists than to his vocals.

Digging through my personal memories I remember John Mayall (and Duster Bennett) giving a concert at Royal Albert Hall on May 10 1970.
Mayall had his drummerless outfit with John Almond on sax. Not one of his more exciting periods. But with such a long career, what can you expect? Almond had strapped on a holster with a gun and finally decided to shoot Duster. Despite this thrilling extravaganza we decided that they were all rather boring, especially in contrast to the opening act: James Litherland's Brotherhood.

Later I've caught Mr. Mayall on stage a couple of times: sounding like a soul band at the (sadly missed) Armadillo World Headquarters in Austin, Texas ('77?) and much later playing de Brit blooze on the good ole' parking lot 'Heden' in central Gothenburg - with Carlos Montoya or Walter Trout on lead guitar. Solid workmanship of course but a bit low on the excitement scale.

The turn of the century finds him gigging and recording with young Buddy Whittington from Texas on lead guitar.
---
Going through my singles box I discover two old vinyl singles.
John Mayall's Bluesbreakers:
"Double Trouble" (Rush)/"It Hurts Me Too"(Mel London!) DECCA F 12621 (1967).
Recorded at a point when Mayall's band consisted of Peter Green, John McVie and Mick Fleetwood, i.e. an early Fleetwood Mac. Must have been a good period! During which they actually recorded a song named "Fleetwood Mac".
A-Side: Hysterically good. Peter Green's guitar has a cathedral reverb, Mayall is singing better than ever and I honestly think Otis Rush would consider this O.K.

B-side: Also well crafted and solid. Peter Green plays detailed non-slide guitar. Mike Vernon did a great job on this one.

"The Bear" (Mayall)/"2401" (Mayall) DECCA F 12846 (1968).
Both cuts from album "Blues From Laurel Canyon". Mick Taylor (guitar), Steve Thompson (bass) and Colin Allen (drums).

A-Side: Messy instrumental intro evolving into routine guitar/piano blues, telling about John's L.A. life, mentioning Canned Heat and their singer: Bob Hite a.k.a. the Bear.

B-Side: More routine blues with nice slide solo.

---

John Mayall's albums are probably listed in every Rock Dictionary available - I omit them here until I get a new rush of high energy. This article will never be finished anyway...

Links:
The Official John Mayall Website
www.johnmayall.net
Chrome Oxide: Music Collectors Pages
The Bluesbreakers: discography, performances...

---