---

Stone the Crows: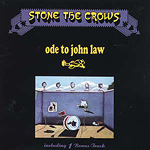 Had a solid foundation in the blues (check out their tour-de-force, Mayfield's "Danger Zone" on the "Ode To John Law"album) but had also a great ability to play in a freer mood. Impressive fluidity and great dynamics. Had often a San Francisco feel in their sound when stretching out.

Vocalist Maggie Bell was definitively in the centre of the stage. Sometimes she was compared to Janis Joplin when singing the blues. A compliment to Janis in my humble opinion. Maggie Bell later on became a solo artist and recorded a few albums, some with U.S. studio pros.

Les Harvey on guitar was also impressive: a magnificient Les Paul Custom wielder with a lot of creativity.

Line up of first two albums "Stone The Crows" and "Ode To John Law":
Maggie Bell: vocals/Les Harvey: guitar/John McGinnis: organ, piano/Jim Dewar: bass, vocals/Colin Allen: drums.

---

Beat Instrumental reviewed their first album in their July '70 issue:
"Good set of clean unpretentious rock/blues from a group who deserve more attention than has been so far accorded. Their sound is clear and sharp, with some precise playing from John McGinnis' keyboards, and tight guitar from Les Harvey, who also writes some of the songs. Maggie Bell delivers some very hefty vocals, coming on like a white Bessie Smith, and the band comes together very nicely for "America", which takes up the second side. A group to watch."

And their fourth in their Nov. '72 issue, revealing the sad passing of Les Harvey:
"Maggie Bell is certainly the Rod Stewart of Stone the Crows and maybe even of the entire female species. "Ontinuous Performance" shows her in full belt. The album is dedicated to Les Harvey their lead guitarist who died on stage during a performance earlier this year. He's featured here on five of the seven tracks - the other two being the work of newcomer Jimmy McCulloch. One of the best tracks is, in fact, one on which McCulloch plays - "Good Time Girl". Ronnie Leahy plays some really fine piano on the same track. All in all a good gutsy performance."

Please go on to next page, being journalist Chris Welch's well written liner notes on the "Teenage Licks" CD sleeve - a concise history of the band.
Albums:
"Stone The Crows" POLYDOR 2425 017 (1970)
"Ode To John Law" POLYDOR 2425 042 (1970)
"Teenage Licks" POLYDOR 2425 071 (1971)
"'Ontinuous Performance" POLYDOR 2391 043 (1972)

"BBC Sessions 1969-1970"
"BBC Live In Concert"
"BBC Live In Concert, Vol. 2"
External links:
Music That Means Something: well made website, fine stuff on Stone the Crows!

---