---

Fleetwood Mac: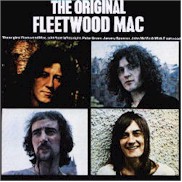 If you are in a hurry:
Jump to earliest blues singles
later singles (still Peter!)
or jump to albums

Peter Green (and soon Danny Kirwan) - guitar & vocals, Jeremy Spencer - guitar & piano & vocals, John McVie - bass, Mick Fleetwood - drums. All of them at some time from John Mayall's pool of musicians.
When listening to their early singles and albums, I still find them almost scaringly good. I'm not objective - who is after all - but something about their sound hits me deeply. Largely because of the guitar and vocal prowess of Peter Green. If he had had only one of these two talents he could still have been undisputed leader of (almost) any U.K. blues outfit at the time. I'm just as fond of Eric Clapton and Jeff Beck as brilliant "blues-rock" guitar heroes - but as a stone blues guitarist...
This band was the true entrance door for us in 1968. We looked them up again. This time at the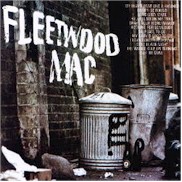 London Polytechnic on June 14 1969. Obviously very, very good - but I was not quite so impressed this time. To be fair, that would have been impossible. The problem was definitely not Peter Green (my sister talks dreamily about that night's "Love That Burns" to this very day) but the jester Jeremy Spencer: By now he had really thrown himself into the role of rock'n'roll hero and a white sequined jacket and demanded a lot of space for his show. I'm really fond of parts of Jeremy's first album (his "Mean Blues" should be a wake up call for some people) but this was too much.
But my sister and I still made a daring train expedition to New Malden to walk In The Footsteps of The Master. Peter Green was said to live there, in a house with an albatross hanging above the front porch. That's what the Fleetwood Mac Appreciation Society said anyway (didn't want to be called Fan Club, thank you very much). We didn't see any albatross, nor any dead parrot for that matter.
I also followed in Peter Green's footsteps to the Orange Music ("Voice Of The World") shop in London (3/4 New Compton Street, W.C.2), displaying loads of beautiful guitar amplifiers. Got a badge which I proudly wore. Always liked those amps - and now (1998) they are being manufactured once again - in glorious orange.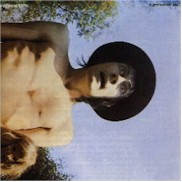 Records listed below include only those issued when Peter Green was a member. After his departure I for one lost interest.

---

Singles:

"I Believe My Time Ain't Long" (James)/"Rambling Pony" (Green) BLUE HORIZON 3051 (1967).
A-Side: Jeremy vocals.
Jeremy's Elmore James routine - but with a lot of enthusiasm and freshness. Solid as a rock. This one I like! But he kept on churning out these things. And to be fair: I'm not too fond of the real Elmore James either. I always preferred Little Milton or B.B. King...

B-Side: Peter vocals.
In the "Rollin' and Tumblin'" vein. More of a vocal number than a vehicle for Mr. Green's guitar. A bit of a disappointment for a guitar freak. The other guys sing along in the background with a churchy "mass" feeling. Hmmm.


"Black Magic Woman" (Green)/"The Sun Is Shining" (James) BLUE HORIZON 3138 (1968)
A-Side: Peter vocals.
Redemption! A whopper of a single - from the first reverby shivering guitar tone. If he never had made another record, this one would have put Mr. Green at the top of my guitarist list. Simply great vocals, great guitar, nifty tempo change... I understand that Carlos Santana agrees wholeheartedly.

B-Side: Jeremy vocals.
Slower and more passionate than "I Believe...". Also coloured by energetic piano. Yes, quite good this one too!

"Need Your Love So Bad" (John)/"Stop Messin' Round" (Green/Adams) BLUE HORIZON 3139 (1968)
A-Side: Peter vocals.
Another top notch single complete with string arrangements by Mickey Baker, U.S. studio guitar pro. Gorgeous slow blues with soulful vocals and impeccable guitar. These singles still astound me with their quality. Gotta' play it again...

B-Side: Peter vocals.
Dirty uptempo blues with the band charging along like a runaway train. Peter's guitar going full blazes egged on by saxes. Perfect company to the dreamy A-side!
This is the Mac sound you imagine when you come upon their old promo shots with motorcycle jackets and bad shades...


"Albatross" (Green)/"Jigsaw Puzzle Blues" (Kirwan) BLUE HORIZON 3145 (1968)
A-Side: Instrumental.
A truly beautiful mood piece that makes me think of the perennial "Sleepwalk". A crafty blues guitarist of many faces, this one.

B-Side: Instrumental.
Young Mr. Kirwan has arrived, armed with a Les Paul goldtop. Twisted, jazzy and unpredictable, this is a good cut. You could have done more of this, Danny!!!

singles...further into rock
"Man Of The World" (Green)/Earl Vince & The Valiants: "Somebody's Gonna Get Their Head Kicked In Tonight" (Spencer) IMMEDIATE IM.080 (1969). Their only IMMEDIATE single.
A-Side: Peter vocals.
Very much a solo gig by Peter. Sad vocals, delicate reverby guitar, harmony vocals - and a tempo change and the guitar snarls and bites. And then down Buster, down. Great stuff. How did he come up with all this?

B-Side: Jeremy vocals.
Recorded by the drunken brutes, The Valiants - or tongue-in-cheek by the Macs? On this one the reverb is all over the place, particularly on the vocals. Makes me thirsty for a pint. Hey, bartender!


"Need Your Love So Bad" (John)/"No Place To Go" (Burnett) BLUE HORIZON 3157 (1969)
The Mac are between labels. This was a BLUE HORIZON reissue. B-Side from 1st album.
A-Side: Peter vocals
Haven't changed my mind. What did you think?

B-Side: Peter vocals.
On the monotonous side. Lots of harp and a repetitive guitar figure. Can't say it shows the Mac's personality. Bread and butter blues.

"Oh Well Part 1" (Green)/"Oh Well Part 2" (Green) REPRISE RS.27000 (1969)
A-Side: Peter vocals.
Starts out with a manylayered guitar workout. Then a vocal break - and suddenly the guitars kick out the jams again. Passages of "Italian Western Movie" guitar...

B-Side: Instrumental.
...which spills over on this side, together with a flute. And a piano, and... Definitely a movie drama.

"The Green Manalishi (With The Two Pronged Crown)" (Green)/"World In Harmony" (Kirwan/Green) REPRISE RS.27007 (1970)
A-Side: Peter vocals.
Great. I love it, and John Cipollina of Quicksilver Messenger Service and Terry & The Pirates would have loved to put his name on this single (only my theory, of course)!
Powerful guitar rock with banshee vocals, shivering tremolo and heavy drumming. Don't stop us now! Why couldn´t the Mac have evolved (with Peter) in this direction - if they were tired of straight blues? Oh, well...

B-Side: Instrumental.
Beautiful but slightly sleepinducing twin guitar workout. Too few reverby Les Pauls. I'll put on the A-side again!

---

Albums:
"Peter Green's Fleetwood Mac" BLUE HORIZON 63200 (1968)
"Mr. Wonderful" BLUE HORIZON 63205 (1968) Not issued in U.S.
"English Rose" EPIC BN.26446 (1969) Not issued in U.K.

(Nine old cuts plus three new Kirwan originals. Two of them reappeared on "Then Play On" album.)

"The Pious Bird Of Good Fortune" BLUE HORIZON 63215 (1969) Not issued in U.S.
Compilation album. Mac between labels.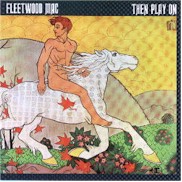 "Then Play On" REPRISE K.44103 (1969)
"Blues Jam At Chess" BLUE HORIZON 7-66227(1969)
22 tracks (traditionals + originals) recorded in Chess Studios in Chicago with Willie Dixon (bass), Walter "Shakey" Horton (harmonica), Honey Boy Edwards (guitar), Guitar Buddy (guitar), J.T. Brown (tenor sax), Otis Spann (piano) and S.P. Leary (drums).
"The Original Fleetwood Mac" CBS 63875 (1971)
(Early studio outtakes, not necessarily featuring the complete lineup).
---

Through the years several live albums from the above era have been issued on various labels. Recordings from the B.B.C. (very good!), U.S. concerts in Boston (patchy but partly brilliant), a gig at the Marquee (doubtful sound quality) etc. I do not list these late issues for the moment: I'm sure that they are all listed already on some of the linked web pages below. Perhaps I'll do a follow-up one of these days.
---
Links:
Peter Green - Fanpage Deutschland
The Jeremy Spencer Home Page
The Penguin: A Home Page Dedicated To Fleetwood Mac
Books:
Roy Carr & Steve Clarke: "Fleetwood Mac: Rumours n' Fax"
(Harmony Books, New York 1978)
Bob Brunning: "Blues - The British Connection" (Blandford Press, UK 1986)
Describes the scene in general - but lots of info on the Mac.

---