---

Nine Below Zero: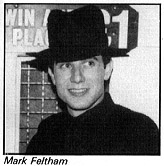 A hardworking band of long standing (debut EP in 1979: "Packed Fair & Square) and several lineup changes.

Originally included harmonica wiz Mark Feltham '77 - '92 (picture right from an '83 music mag). Mark was often a guest of the Mick Clarke Band.
Another longtime harp player: Alan Glen, '92 - '95. In '86 with Radical Sheiks. In '98 -'99 with The Yardbirds, Sonny Black & The Dukes and The Barcodes.
And from '95 on harp with NBZ: Billy 'Boy' Miskimmin.

Steve Cook of 'Blueprint' magazine said in '97:
"Nine Below Zero are the hottest rockin' R&B band around. They have a frontman who is bag full of stage presence and wit, a harp player who is getting my vote this year for the 'Blueprint' award, and the most experienced rhythm section around in Gerry McAvoy and Brendan O'Neill, who have spent more than twenty years together with both the late Rory Gallagher and NBZ."
Lineup from '95 on (?):
Dennis Greaves: vocals, guitar (only remaining founder member)
Billy 'Boy' Miskimmin: harmonica
Gerry McAvoy: bass
Brendan O'Neill: drums

Links:
The official Nine Below Zero webpage
Revised - new URL. A must! Discography, history, pix...

---