---

Rory Gallagher: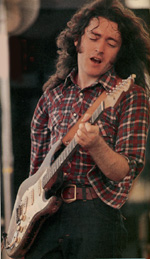 Workshirted Irishman Rory with his battered Strat and a lone Vox AC 30 became immensely popular on the festival circuit as guitarist of threepiece Taste, playing slide/nonslide on blues standards ("Catfish", "Sugar Mama") and his own more rock oriented originals. A working class hero to his audience. With Taste he recorded two studio albums ('69 and '70), then the band split early in '71.
Rory went solo and the rhythm section formed Stud with guitarist/vocalist Jim Cregan.
Rory Gallagher Band was formed with Gerry McAvoy on bass and Wilgar Campbell on drums. Issued three albums: "Rory Gallagher" ('71), "Deuce" ('71) and "Live In Europe" ('72).
Then a new lineup with Rod de'Ath on drums and Lou Martin on keyboards (both ex-Killing Floor). Trusty Gerry McAvoy remained on bass. (Lou Martin later went on to the Mick Clarke Band.) Album row started with "Blueprint" and "Tattoo" (both '73) and so it rolled on... All above albums on POLYDOR.
Brendan O'Neill occupied Rory's drum chair during part of the 80's. The rhythm section of him and Gerry McAvoy lived on in Nine Below Zero.
Check out links below for further career! (Photo above from Creem Magazine, March '79).
---
Links:
Chrome Oxide - Music Collectors Pages: The Taste
The 1st Rory Gallagher Home Page
The Musicians' Olympus: Rory Gallagher

---