---

Mick Clarke Band:
---
Got a mail from Mick on Sept. 30 2002:
"Hope all is well with you. Just to let you know that I have a new live CD out - an "official bootleg" available only through the website, www.mickclarke.com. More details at http://www.mickclarke.com/livealbum"
---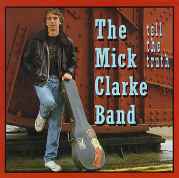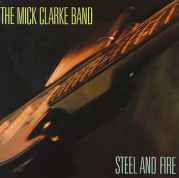 Mick Clarke was previously guitarist with U.K. blues group Killing Floor.

The Mick Clarke Band (with their "compelling mixture of virtuoso guitar driven blues and boogie" to quote one satisfied critic) record for the APPALOOSA and BURNSIDE labels, perpetuating their vision of the vintage British blues sound. A fine vintage, sir! This guy deserves some sort of patriotic medal!


---
Assorted lineups: always including Mick Clarke: guitars and vocals.

"Looking For Trouble" (1984). This fine album lists Ron Berg (drums - ex Blodwyn Pig, Juicy Lucy, Alvin Lee etc.), Lou Martin (piano/Hammond organ - ex-Killing Floor - too, Rory Gallagher Band etc.) and Len Davies (bass).


---
"Rock Me" (1985) guest: Mark Feltham on harmonica (of Nine Below Zero).


---
"All These Blues" (1987): Peter Terry (keyboards), Mark Feltham (harmonica), Russell Prett (bass) and Wilgar Campbell (drums, from Rory Gallagher Band).
---
"The West Coast Connection" (1988?) features guests Curtis Salgado and Dover Weinberg of the Robert Cray Band.
---
Kerry Canfield played impressive piano and organ in Mick's band for about two and a half years - from May '88 until January '91, also playing the keyboards on the recording of "Steel and Fire."
---
Mick Clarke is a real trooper. A keeper of the flame of British guitar blues. More power to him and his trusty Gibson SG!
---
Albums:
but I'm sure there are more!

"Looking For Trouble" APPALOOSA AP 038 (1984)
"Rock Me" APPALOOSA AP 050 (1985)
"All These Blues" APPALOOSA AP 058 (1987)
"The West Coast Connection" (1988?)
"Steel And Fire" BURNSIDE 5 (1989)
"Tell The Truth" BURNSIDE 6 (1992) /TAXIM TX 1001
"No Compromise" BURNSIDE 20 (1995) /TAXIM CD TX 1006-2
"Happy Home" (Mick Clarke/Lou Martin) BURNSIDE 26 (1997)
"Roll Again" TAXIM TX 1017 (1995)
"New Mountain" BURNSIDE 0037 (2000?)
---
Former bassist Martin Skipper mailed me, helping out. Thanks!!:
"Hello
I came across your web page and what should I do but look up Mick Clarke.
Your info on him is good but you missed me out!! I played bass on the "Rock Me" record along with Mick (of course), Lou Martin - keyboards; Wilgar Campbell (ex Rory Gallaher) - drums.
At that time we had John Goble on keyboards for live gigs but as you no doubt know Mick used Lou for his records. (Not always says the editor - Kerry Canfield was on keyboards on "Steel and Fire").
If memory serves, we recorded the record in December '84 at the Elephant recording studios.
You can find more on Mick at Taxim Records.
Keep up the good work.
Regards
Martin Skipper"

Links:
www.mickclarke.com

---