---

Mick(y) Moody:
"Although I had seen Moody once before and was amazed by his slide style, I didn't realise what a great all-round guitarist he is, mixing very dextrous finger-picking with some lovely Wes Montgomery jazz runs."
Paul Morris reviews a Teddington gig in the Blueprint Magazine, April 2000.
Guitarist, often slide. Thrives in a bluestinged company.


Tramline: "Somewhere Down The Line" ISLAND ILPS 9088 (1968)
Zoot Money Music Band in 1969
Juicy Lucy album 2,3,4.(1970, 1971, 1972) replacing Neil Hubbard
Steve York (1973)
Snafu (three albums 1974, 1974, 1975)

Made an album of his own with Bob Young of Status Quo:
Young & Moody: "Young & Moody" MAGNET MAG 5015 (originally issued in 1977. CD reissue in 1996 with nice booklet notes by Chris Welch.)
Spent the later seventies playing and recording with the likes of Mickey Jupp, Frankie Miller, Gerry Rafferty.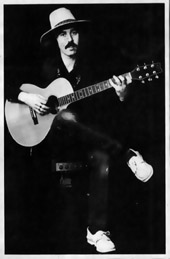 And then in '78: Whitesnake with old buddy David Coverdale. Moody envisioned Whitesnake as a twin guitar band along the lines of Allman Brothers - with himself on slide and with Bernie Marsden as the other guitarist. Photo to the right depicts a Whitesnake-era Moody pushing the Washburn guitar.
Moody left in '81 - too tired from all the late nights. When he returned later on in '83 it was a different band altogether, far from his vision... So he left again.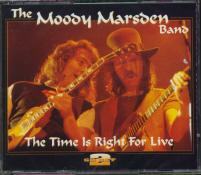 Mick Moody later on became one of the two masterminds of the bluesy Moody Marsden Band in company once again with guitarist Bernie Marsden. Issued double CD on CASTLE: "The Time Is Right For Live" (see cover pictured left).
In 1998 these two guys lead a band called (The Company Of) Snakes.
In the year of 2000 the first ever solo album by Mick was issued:
"I Eat Them For Breakfast" BLUE ARMADILLO ARMD 00006
I caught Mick Moody once in the late eighties (?) at the Half Moon Pub in Putney. Impressive. Superb blues playing - and almost unplugged as volume goes nowadays. A far cry from Whitesnake, I imagine.
---
Album:
"I Eat Them For Breakfast" BLUE ARMADILLO ARMD 00006 (2000)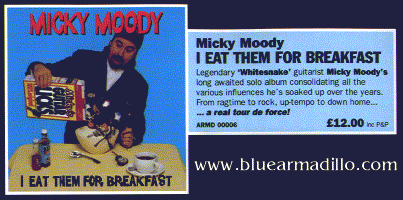 Alex Gitlin - as always quotable from our web forum:

Tramline released two albums, "Moves of Vegetable Centuries" (out of print now, extremely rare!) and "Somewhere down the Line" (Island originally, now reissued on CD by Edsel, I believe) - in the late 60s. Both feature a very young (17-18!) Micky Moody "giving it some welly" on the slide.
---
Micky's new solo album, "I eat them for breakfast" is good, modern blues, in the same vein as a typical mid-90s Moody Marsden Band album would be, with a smattering of Splinter Group thrown in - quite laid back and nothing groundbreaking, but definitely pleasant and worth seeking out. No one track stands out from the crowd though, in my opinion. Overall, I like it.
---
Links:
www.mickymoody.com
Blue Armadillo record co.

The Company of Snakes
On the Road with David Coverdale - lots of Whitesnake info!
a page from Kathy's Zak Starkey Site: "The Moody Marsden Band"


---