---

Juicy Lucy: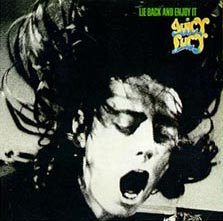 Group centered around steel guitar wildman Glen 'Fernando' Campbell, ex-Misunderstood.

Juicy Lucy got minor singles hit with their version of "Who Do You Love" (great!) with Ray Owens on vocals. Ray Owens sang on first album ("Juicy Lucy"), Paul Williams on the second ("Lie Back And Enjoy It"). Frequent changes of lineup, but below is one lineup at approx. time of "Pretty Woman" single:

Paul Williams: vocals/Glen 'Fernando' Campbell: steel guitar/ Neil Hubbard: guitar (later Mick Moody)/Chris Mercer: sax / Keith Ellis: bass guitar (later Jim Leverton)/Pete Dobson: drums (later Rod Coombes).

The band is actually still kickin' in 2005 (check official website below).
Ray Owen back on vocals, Mr. Fish is on guitar, Fudge on bass and Fletch on drums.

---

"Pretty Woman" (Williams)/"I'm A Thief" (Campbell/Mercer/Thomas) VERTIGO 6059 015 (1970)
A-Side: Glenn slides it on down ferociously behind Paul's menacing voice.

B-Side: Rhythmic, rapping, soulful... A taste of Dr. John? Glenn's crescendos - and chanting ladies.

---

Albums:
"Juicy Lucy" VERTIGO 847 901 (1969)
"Lie Back And Enjoy It" VERTIGO 6360014 (1970)
"Get A Wiff A This" BRONZE ILPS 9157 (1971)
"Pieces" POLYDOR 2310 (1972)

Link:
Juicy Lucy Official Home Page

Juicy Lucy on Alex' Home Page.

---