---

Blodwyn Pig: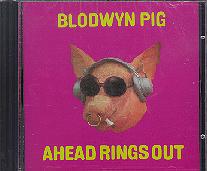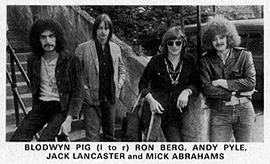 Record company promo shot circa '70


Mick Abrahams came from Jethro Tull, led Blodwyn Pig and then left to form the Mick Abrahams Band. A good rock/blues guitarist with a trade mark tour de force: "Cat's Squirrel" executed on a Gibson SG/Marshall combination. Plus a good vocalist!

Mick left Blodwyn Pig around Sept. '70 and was replaced by two guitarists (what a compliment!): Pete Banks from Yes and Barry Reynolds from Pacific Drift (a band Jack Lancaster is a former member of).

But the classic Pig lineup was without doubt:
Mick Abrahams: guitar, vocals/Jack Lancaster: saxes/Andy Pyle: bass/Ron Berg: drums.

---

"Dear Jill" (Mick Abrahams)/"Sweet Caroline" (Mick Abrahams). ISLAND WIP-6059 (1969).
A-Side: Slow and dreamy. Tasty slide and good vocals. Moody reeds from Mr. Lancaster. Great! Should have been a hit.

B-Side: Pushing twelvebar. Feels partly like "The Stumble" with vocals. The Pig is attacking heavily and sax and guitar compete for space. Both win. Good single, this.

---

Albums:
"Ahead Rings Out" ISLAND ILPS 9101 (1969)
"Getting To This" CHRYSALIS ILPS 9122 (1970)

A tough sounding band with a very diverse song list: Gentle acoustic pickings and mellow flutes contrasting with wild and (sometimes) messy numbers sounding as a cross between Cream, Colosseum - and latter day Beatles. A penchant for synchronized riffs and clever tempo changes. In my opinion lacking in profile - but never boring!

---
Links:
www.squirrelmusic.com
The Blodwyn Pig Fan Page
The Musicians' Olympus: excellent page on the career of Andy Pyle!

---