---

Alexis Korner: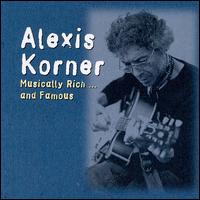 Blues guitarist and vocalist - a father figure for U.K. r&b.

Played piano and guitar with Chris Barber's band in the early 50's: a jazz band with strong blues elements. He left Barber and joined forces with blues harpist Cyril Davies. They opened up the London Blues and Barrelhouse Club in Tottenham Court Road in '57. Ran the pub for three years and then they (re)joined Chris Barber's band as a blues duo within the band.

In '62 they launched Blues Incorporated, their own r&b band. A turbulently changing outfit which included Art Wood on vocals (later formed the Artwoods), Ron Wood (Art's brother who became a member of the Faces and then the Rolling Stones), Dick Heckstall-Smith on sax (on to the Graham Bond Organisation and Colosseum), Spike Heatley and Jack Bruce on bass (later famous in the Cream) and Charlie Watts (the future Rolling Stone) on drums.
Plus guests like the two future Stones Mick Jagger and Brian Jones - and vocalist Long John Baldry (later in Steampacket and Bluesology).

In Nov. '62 harpist Cyril Davies left Alexis Korner and Blues Incorporated, forming Cyril Davies R & B All Stars.

The last edition of Blues Incorporated was dissolved in '66 and Alexis founded Free At Last with Hughie Flint (ex-John Mayall's Bluesbreakers) on drums and (first) Cliff Barton (from Blues Incorporated) and (then) Binky McKenzie on bass. A loose mixture of jazz and blues. Group lasted a year and Alexis then worked with the New Church, Snape and as a solo act.

Alexis toured in '68 with Danish group the Beefeaters. Afterwards the group's guitarist/vocalist Peter Thorup and Alexis began working together. On one hand as a duo ('68 - '72). On the other hand as leaders of the commercially successful C.C.S.: a "rock big band" with lots of brass.

Worked in the late 70's with Rocket 88 (Bob Hall, Ian Stewart a.o.) and as a duo with bassist Colin Hodgkinson (Back Door, Rocket 88).

He died in '84 and is sadly missed by fans and fellow musicians.

Literature:
Bob Brunning: "Blues - The British Connection" BLANDFORD PRESS (1986) explains these complicated threads explicitly. A must!

Links:
Alexis Korner - backstage
Carlo Little: Confessions Of A 60's Drummer
Great homepage - lots of info on Cyril Davies R & B All Stars and much more!



---