---

The Cream: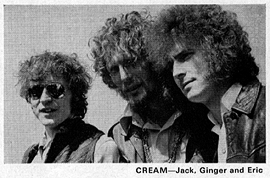 Still the ultimate blues/rock trio:
Eric Clapton - guitar/Jack Bruce - bass & vocals/Ginger Baker - drums.

When me & sis hit the British soil The Cream were already dissolved (or clotted, as one journalist said). They played their "Farewell Gig" at the Royal Albert Hall in London on Nov. 26 1968. But they had put an indelible stamp on the U.K. music scene. The droning yet melodic riffs that characterized the glorious trio were more or less duplicated by all the heavier blues outfits. And it seems from "Guitar Player" interviews as if every blues/rock guitarist of repute has been sitting with a recording of Cream's "Crossroads" and tried to emulate Clapton's masterful solo. But Eric was sallying forth, first into Blind Faith and later on to those greasers, the Dominos...

Eric Clapton entered my life solidly when I received Cream's album "Disraeli Gears" from Central Records in Manchester. It hit me solidly in the midriff unfortunately: When I opened the parcel I had some sort of sordid stomach ailment and I played the album for the first time feeling quite sick... Man's mind (and stomach) works in strange ways, so every time I played that album for the next six months that sick feeling reappeared in a flash. And I still love this album. Must be true love.

---

"Sunshine Of Your Love"(Bruce/Brown/Clapton)/SWLABR(Bruce/Brown) POLYDOR 59 165 (1968)
What can you say? A doublesided masterpiece, that's what I say. Best blues/rock riffs ever. Period. No further comments will be available...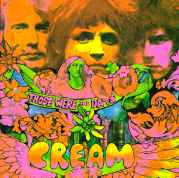 Albums:
"Fresh Cream" REACTION 594 001 (1966)
"Disraeli Gears" REACTION 594 003 (1967)
"Wheels Of Fire" POLYDOR 583 031/2 (1968)
"Goodbye" POLYDOR 583 053 (1969)
"Cream Live" POLYDOR 2383 016 (1970)
"Cream Live 2" POLYDOR 2383 119 (1972)
Everything above has of course been repackaged endlessly with new numbers.
Probably a must: Recent CD collection of The Cream's music:
"Those Were The Days" ("Disraeli"-like cover pictured above).
Links:
www.thecream.net
Derek's Cream Page!
Eddy's Cream Page!
Those Were The Days!: Endless info, also on instruments etc.

---