---

Mick(e)y Waller: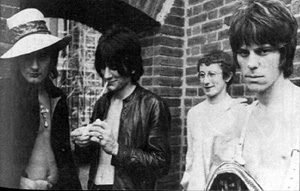 A 'name' drummer in the U.K., having played on Jeff Beck's "Truth" album in 1968. Jeff Beck meant prestige.

Once a member of blues pioneers Cyril Davies R&B All Stars and of Steampacket with Brian Auger, Julie Driscoll, Rod Stewart...

Mickey Waller joined John Mayall's band when Aynsley Dunbar left Mayall in April '67 and joined Jeff Beck Group.
So when Aynsley left Beck (founding the Retaliation), Waller in his turn joined Jeff Beck, thereby leaving Mayall - who replaced him with Mick Fleetwood... Jeff Beck Group picture above, from left to right: Rod Stewart (vocals), Ron Wood (bass), Mickey Waller (drums), Jeff Beck (guitar).
My sister & I saw him behind the drums with Steamhammer, easily their best known member: a bespectacled young man with a sensitive face, curly hair and frilly pink shirt. But h-e-a-v-y on the drums. Impressive.
Later played with Rod Stewart (on Rod's first four solo albums '70-'72), Long John Baldry, Ron Wood, and in a more bluesy context with the De Luxe Blues Band.
In '89 drummer with Otis Grand & The Dance Kings.

Links:
In this site: Mickey Waller Band- Eel Pie Club, 26th May 2004. A Review By Stephanie Thorburn – Freelance music writer.

External links:
The Musicians' Olympus: excellent page on the career of Mick(e)y Waller!

---