---

Otis Grand: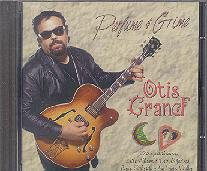 Once led the constellation Otis Grand & The Dance Kings: "My first impression was Glenn Miller meets Rhythm & Blues" said one reviewer in '89.

Since the band got together in late '87 they have gone through several lineup changes.
Lineup '89:
Earl Green: vocals (to The Earl Green Band)
Otis Grand: guitar
Dave Taylor: keyboards
Dan Quinton: bass
Mickey Waller: drums
John Willmot: tenor sax - Mark Seymour: trombone - Mike Hobart: tenor and baryton saxes - Tex Lloyd & Tim Sayer: saxes and trumpet

---
Performed in Febr. '98 as Otis Grand And The Big Blues Band at Half Moon, Putney.
"Deftly assured, big band blues" said "Time Out".
---
Guitar and Amps Dept:
Otis Grand's gear in in '89:
Fender Stratocaster '64 plus Fender Super Reverb. No effects, heavy strings.
Early influences: Johnny Guitar Watson, Buddy Guy.

Albums:
...are listed on Mr. Grand's own extensive web site below!

Links:
www.otisgrand.com

---