---

John Moorshead: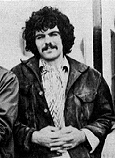 Also spelled Moreshead, Moorhead, Morshead or Morsehead depending on source. I have chosen to use the spelling on Aynsley's album covers.

Excellent blues guitarist who once played with Shotgun Express. Joined Aynsley Dunbar Retaliation and is featured on all albums recorded under this group name. Joined/formed Heavy Jelly with Jackie Lomax when Aynsley formed Blue Whale. Thereafter joined Graham Bond's Holy Magick ("Holy Magick" VERTIGO 6360 021 in 1971). Featured on Denny Laine's first solo album "Aah Laine" in 1973. Then I lost track of this gentleman for a long time.

When I dived headlong into the British blues scene in 1968 there was naturally a lot of "hero worship". I didn't go much for sports heroes... Deep inside I wanted to be a guitar hero myself - just like those cool Englishmen. In my mind I formed some sort of image of the ideal blues guitar hero: long hair, moustache, Levi's shirt, leather jacket, boots. And a cherry red Gibson SG.
John Moorshead was perfect!

Lately it's been more Beck, Clapton and Green on my turntable (or CD player!). But when I listen to those Dunbar albums today, I must say that John Moorshead still impresses me. He played in a more "American" style than most of his U.K. contemporaries. He had most certainly done his homework!

John Holmes wrote in the "British Blues Review" October '88 in his piece on the Aynsley Dunbar Retaliation: "... a final Retaliation LP entitled "Remains To Be Heard" was issued in 1970 on the Liberty label. This was more than an LP of rejected tracks, and once again featured some fine guitar playing from John Morshead, particularly on the slow blues, "Downhearted", which for me is one of the finest recorded guitar solos by a white blues player!"

The "British Blues Review"s June '89 issue contained a favourable review of a live gig by Dr Jim's Wonder Tonic (a four piece from Dorset), featuring the elusive Mr. J.M.
Pete Moody's photograph depicted our clean shaven and healthy looking hero playing a natural finish Telecaster and wearing a satisfied smile, a checkered shirt and Lee jeans in the best Fogerty tradition.

But where is he now? When asking around in London in the summer of '98 I heard that he lived on the west coast (Bristol?), possibly played with the Aynsley Dunbar Trio and a year ago had gigged with guitarist Top Topham. More info invited!

Picture top left is detail of cover of BLUE HORIZON's compilation album "In Our Own Way: Oldies But Goodies", issued in 1968/1969. Photo © Blue Horizon.

---