---

Heavy Jelly: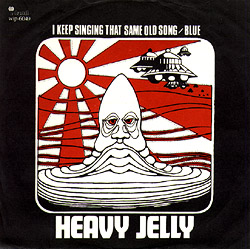 Interesting group, this. Complicated to follow, despite brief longevity.
But let's start from the beginning:

I love to quote the most useful dictionary "The New Rock Record" (Hounsome & Chambre):

"The Heavy Jelly on the ISLAND sampler "Nice Enough To Eat" ("I Keep Singing That Same Old Song") was really Skip Bifferty."

Now, Skip Bifferty listed Graham Bell and Colin Gibson among it's members. So the composer names of the unfortunate single I will describe below DO check out.

"I Keep Singing That Same Old Song" (Gibson)/"Blue" (Bell), ISLAND WIP-6049 (1969).
Obviously issued before the HEAD recordings and before the Jackie Lomax & John Moorshead line-up existed (see later in this chapter). It's the only Heavy Jelly record I've been able to lay my hands on.

A-Side: Very L-O-N-G cut. First an unsure and plaintive vocal and a repetitive acoustic piano. Some aimless guitar. Then it gradually builds up (everybody having a rave up as the good ole Yardbirds would say!) to a bit of a mess: Tons of guitars, Creamish riff fragments, relentless staccato drums. Too much of everything. At the end it sounds as if it's all going to explode.

B-Side: Heavy guitar intro, then the plaintive guy again. Everybody is playing for himself in his own little corner and still it all collides. A merciful faded ending.

You guessed it: I don't like this
But greater things were to come.

So now I quote "The New Rock Record" (Hounsome & Chambre) once again:

"The name Heavy Jelly began as a review hoax but was registered by John Curd of HEAD Records…
One single "Chewn In"/"Time Out" on HEAD 4001. An album was prepared but was not released."

N.M.E. reviewed the single "Time Out" on the HEAD label in their May 17, 1969 issue. According to them it provided: "...a thick cloying sound that insinuates itself into your mind and holds you spellbound. This is an r-and-b instrumental with the focus on guitar and (would you believe?) violin - but outstanding for some frantic breath-taking percussion that's out of this world. A gas!"
No doubt. But who were the players?
Let's now quote the N.M.E. issue of December 6 1969:

"Lomax Joins Heavy Jelly:
Jackie Lomax and former Animals drummer Barry Jenkins have joined new group Heavy Jelly. The line-up also includes Alex Dmochowski and lead guitarist John Moorshead from the Aynsley Dunbar Retaliation, which has now split up. Jelly is now cutting an album for mid-January release by Head, and hopes to commence live dates at about the same time."
My sister and I were lucky enough to find this edition of Heavy Jelly on stage one evening at The Lyceum, May 17 1970 . Strong vocals, good material, top notch players. I knew that Moorshead was good, but Lomax floored me, squeezing excellent wah-wah tones from a gaily painted Gibson SG. I love Clapton's wah-wah technique - "White Room" for example - but most other players seem to have got the pedal as a surprise gift a week ago and are grimly determined to make the most out of it until Dad (wisely) takes it away. All right: This band could have become truly big. No way.

Let's quote "The New Rock Record" (Hounsome & Chambre) once again:

"Also a session for the B.B.C. was recorded mid 1970."

This could be the real thing! After the Fleetwood Mac and The Move reissues of B.B.C. material (and good ones, too!), why not this! Please!

But the whole thing petered out. According to "The New Rock Record" seven line ups existed between early 1969 and late 1970. At various times they included Carlo Little, Bruce Rowland, Jim Capaldi, Steve Thompson, Chris Wood and others...

But hark! Additional info from the eminent "Delerium" web site:
Heavy Jelly ... "recorded a promo-only album on Head Records, which is obviously extremely rare now. Psycho Records reissued this in 1984 although most of it is eminently forgettable."
Makes me curious anyway.

A helpful reader (Alistair - thanks!!!) briefed me on March 8 2001 of these interesting items at www.metro-music.com
---
Heavy Jelly (Compact Discs|Main Catalog): The Eagle Laughs at You Sale price: $20.00. Their rarest material - incl. singles & unreleased lp!

Heavy Jelly (British Invasion/Freakbeat Singles|Main Catalog) I keep singing the same old song Sale price: $25.00 VG+++ UK island -rare from 68!!!

Heavy Jelly (Consignment LPs (All Categories)|Backstock Catalog) Take Me Down to the Water Sale price: $15.00 Psycho Mono M
Links:
www.JackieLomax.com
Carlo Little: Confessions Of A 60's Drummer
who was very much involved in above band!

---