---

Simon 'Honeyboy' Hickling: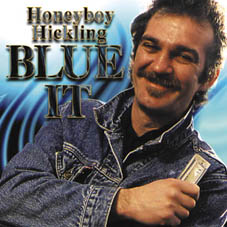 Harmonica player, singer and songwriter who started his pro career in the mid 70's (?). Nominated as Best UK Harp Player for the year 2000 in "Blueprint Magazine". Spent three years touring and recording with Steve Marriott, sharing harp & vocal duties.
Sometimes fronts his own band (at least from late 90's on) called Honeyboy Hickling & The DT's.
For the technically inclined: Said to use 'a Green Bullet Modified with a volume control and with the element of an Astatic'...
The extremely competent lineup of "Blue It" album from 1998 included:
Simon Hickling: vocals, harp
Ed Deane: guitar
Geraint Watkins: accordion
Gerry McAvoy: bass, vocals (from Rory Gallagher Band, Nine Below Zero)
Brendan O'Neill: drums (from Rory Gallagher Band, Nine Below Zero)
Apart from his own albums listed below, Mr. Hickling is heavily featured on the album "Live At The Pheasant" (Mitawan) by Bob Bingham. "a good variety of acoustic blues... backed by Honeyboy Hickling playing harp on seven of the 14 tracks. These recordings were recorded at the Pheasant Inn in Sheffield, England in March 1998" said one reviewer.
---
Albums:
"Straight From the Harp" Music Maker Records CMMR943 (1995)
"Blue It" Bridge Recordings BRGCD28 (1998)

Links:
www.bridge-recordings.co.uk records
www.movinmusic.co.uk booking agency

---