---

Eric Burdon: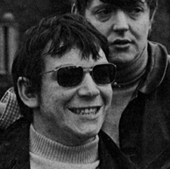 Powerful vocalist of The Animals - legendary group from Newcastle. Promo shot to the left from '65 depicts him with Chas Chandler, bassist and a moving force in The Animals.

Eric was more of a blues singer than giant hit single "House Of The Rising Sun" might suggest. Has soldiered on valiantly through the Animals, New Animals, War, the Eric Burdon Band, Eric Burdon's Fire Dept, more Animals - plus a solo career. In my humble opinion he never made a really bad album (all right, "Every One Of Us" is a bit thick...). That voice can save anything!

Bandwise, Eric started out with his classic Animals lineup, went psychedelic, moved to the U.S. and later on to Germany and then to the U.S. again... Never recorded much with these Knights In Blue Denim fellas! Still, some of them do crop up:



"Survivor" (1977), recorded in London, features a.o. Zoot Money on keyboards and some vocals, Geoff Whitehorn and Alexis Korner on guitars and Maggie Bell (once with Stone the Crows) on vocals.
Zoot Money, who co-wrote almost all of the songs on "Survivor", was a member of the New Animals in the late 60's and played on the amazing vinyl double album "Love Is" (1968). Which features a long & beautiful rendition of the blues classic "As The Years Go Passing By" with Andy Somers/Summers (previously a Zoot Money mainstay and later a Police) and John Weider (also of Family) on guitars.



"Darkness, Darkness" (1980), recorded on Ireland, boasts a.o. Bob Tench and Henry McCullough on guitars and Mick Weaver on keyboards.
He sure knows how to pick them!

Links:
Eric Burdon - the Animal: his official home page
The Animals

---