---

Billy Jenkins: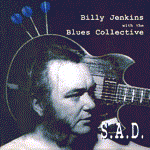 In a world full of clichés, Billy Jenkins is very much his own man, playing his own blues - and his own jazz. But it ain't always easy doing it your own way. When his first blues CD "S.A.D." was released in 1996 some critics took it as a joke:
"I doubt if Blues clubs will want the Blues Collective. They'll think I'm taking the piss - like some factions in the jazz world think the Voice of God does. Well I ain't - and I don't mean anyone any harm either."
No, Billy just wants to use the freedom the idiom offers:
"Now Blues has a defined musical form, mostly based on the root, fourth and fifth note of the Western scale and of course the twelve bar. It is a universal blueprint, a safety net for the listener. They know what's roughly going to happen next. And therefore, with this pattern in place, the musician can go completely nuts, go ape, go primitive. Talk in tongues, become possessed..."
(Two excerpts above from Dick Ward's 1996 interview with B.J., as published on the website www.billyjenkins.com.)
So perhaps you won't be able to catch Billy Jenkins and the Blues Collective on the regular r&b circuit. If you do, this could be the lineup (July 2000 - in B.J.'s own words):

Billy Jenkins: electric guitar, shouting & jumping up and down
Dylan Bates: electric violin
Rick Bolton: electric rhythm guitar
Thad Kelly: electric bass
Mike Pickering: drumkit

B.J. says:
"This line up has just recorded a CD 'sadtimes.co.uk' - which will be available on VOTP Records (VOCD 002) ONLY through (guess where) www.sadtimes.co.uk from 1st October 2000.
Live wise, we occassionally add on The Fun Horns of Berlin (trumpet, alto, tenor, trombone) but it gets a bit pricey."
---
Another possibility to catch B.J. on stage: with the Kit Packham outfit - he's been playing guitar with them for several years.
---
When Billy Jenkins once upon a time started out playing guitar it was the blues he turned to, buying albums and practising to Albert and B.B. King LP's. Like everybody else in these pages I almost added. But Billy finally went on the road playing jazz instead, feeling that the blues should be played when you have lived a little longer. And now's the time.

Blueprint Magazine's journalist Trevor Hodgett interviewed Billy in Blueprint's Febr. 2000 issue:
Jenkins admires some British bluesers. "The early stuff on Blue Horizon. Peter Green I very much liked and the early Fleetwood Mac. Stan Webb I liked at the time."
Those were the days. But this is now - and from now on Billy will keep on playing the blues. His own brand, mind you:
"I'm happy to slowly infiltrate the blues scene and try and restimulate it. I'm looking forward to taking on the dinosaurs'"
---
Blues albums with Billy Jenkins and the Blues Collective:
"S.A.D." BABEL 9615 (1996)
"sadtimes.co.uk" VOTP Records VOCD 002 (2000)

Links:
Billy Jenkins Webzine - www.billyjenkins.com: lots of interesting stuff!
The Babel Label: jazz and blues albums
www.sadtimes.co.uk: the new album!

---