---

Chicken Shack (in all shapes, led by Stan Webb):

Fleetwood Mac's stablemates on BLUE HORIZON. Not as cool and beautiful as the Mac sometimes could be, and lead guitarist Stan Webb was perhaps no true rival of Peter Green. But the band had tons of energy and were probably a more exciting live band to a lot of the audience.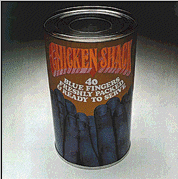 Christine Perfect, piano and a few vocals, left the group in May 1969, so we never had a change to hear her. She left exactly when "I'd Rather Go Blind" became a single hit... Tough luck. She had better commercial timing later. When we caught the band she was already replaced by Paul Raymond (ex-Plastic Penny). But the natural centre of the stage was as always the irrepressible Stan Webb. Whose sound also became a bit heavier as time and his Ford Thames van rolled along. But his version of "Nightlife" always made me forgive the excesses. Marquee or 100 Club, Stan the Man always gave you your money's worth.

And Chicken Shack keeps on truckin' through the years - truckin' that blues away. Making one-off deals with minor labels - sometimes German, since the Shack has a good following there. Solid albums, if not always imaginative. Often more rock than blues nowadays - and I don't list them all here. Check out links below! Some stuff reissued by U.K. blues label INDIGO.


Stan was always able to muster a new band lineup out of a pool of seasoned British R&B veterans with battle scars and strange stories of U.S. tours with Ten Years After, Blodwyn Pig, Savoy Brown ad infinitum. Some albums have clearly not made him justice, but the year of 2001 saw the issue of Stan Webb: "Webb": an extremely well recorded, well sounding, well written album on the U.K. INDIGO label (IGOXCD 538). A masterpiece in my opinion - the album I have always been waiting for.
---
So what do I find in that ole' singles box:

"When The Train Comes Back" (C. Perfect)/"Hey Baby" (Perfect/Webb/Vernon) BLUE HORIZON 57-3146 (1968)
A-Side: Medium tempo blues, reeds, Christine on vocals. A subdued Stan works on his hand vibrato.

B-Side: Heavy footed twelvebar, Christine once again at the mike. Screeching guitar licks from Stan. Not their best.

"I'd Rather Go Blind" (E. Jordan/B. Foster)/"Nightlife" (P. Buskirk/W. Breeland/W. Nelson) CBS 3153 (1969)
A-Side: Elegant slow blues. Reeds, of course. Christine on vocals and discreet organ. Short reverby guitar solo at end. Neat with lots of soul! Deservedly a hit.

B-Side: Stan on vocals, Christine at the piano. Reeds and a straightforward arrangement. This is a Stan Webb classic. One of my favourite songs and Stan at his best. Very good single!

"Sad Clown" (S.Webb/P.Raymond)/"Tired Eyes" (S.Webb) BLUE HORIZON 57-3176 (1970)
A-Side: Instrumental with one straight electric guitar and one very processed ditto (or is it a keyboard...?). A bit of surf guitar here and there. Was this meant to be another "Albatross"?

B-Side: Stan at the mike. Jazzy ballad (!), a bit old timey, with guitar, piano and smarmy strings. Strangely enough, Amos Garrett pops up in my little brain. Acctually, I like this song!
It suits Mr. Webb! I wouldn't mind if he'd record more in this vein.

"Poor Boy" (Webb)/"As Time Goes Passing By" (Webb) DERAM DM 381
A-Side (1971): A Stan Webb trade mark. Lots of dynamics. Starts out with vocals and scratching guitar - and then the band explodes. Heavy drumming. A long guitar solo: the Gibson wails, yelps, screeches relentlessly. And then down to vocals and scratchings. Super!

B-Side (1973): This is Stan Webb's carbon copy of Fleetwood Mac's "Need Your Love So Bad", complete with strings. Quite good - so no problem!
---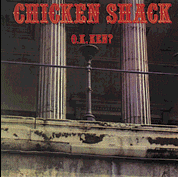 "Blues music, and the Blue Horizon label in particular, have been enjoying an unprecedented run of success over the past few months. The Chicken Shack's last album "40 Blue Fingers..." achieved considerable chart success and there is every reason to belive that "O.K. Ken?" will do even better."
so hoped C.B.S. in "The Record Buyer", Febr. '69.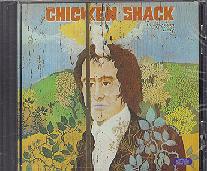 Period Albums - from the beginning:
"40 Blue Fingers Freshly Packed And Ready To Serve" BLUE HORIZON 7 63203 (1968)
"O.K. Ken?" BLUE HORIZON 7 63209 (1968)
"100 Ton Chicken" BLUE HORIZON 7 63218 (1969)
"Accept" DERAM 7 63861 (1970)
"Imagination Lady" DERAM SDL 5 (1972)
"Unlucky Boy" DERAM SML 1100 (1973)
"Goodbye" NOVA SDL 8008 (1974)

Lots of stuff issued/reissued on INDIGO label, too!
---
Links:
'Stan the Man' - the approved unofficial Stan Webbsite
A must!!!

www.trojan-records.com: includes the INDIGO label

---