---

Mick Abrahams: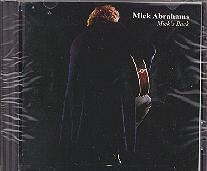 Blodwyn Pig bossman!

Quote from "Beat Instrumental", February 1971:
"Unlike most guitarists, Mick Abrahams' playing, blending sophisticated chord work with dazzling single-string breaks, goes beyond the distinction between lead and rhythm playing. You can hear echoes of many forms - Mick has a wide-ranging style drawing from jazz, country and western, rock'n'roll (ancient and modern) and he is also one of the most imaginative and sensitive exponents of bottlenecking.
Mick made his decision to go professional at the fitting age of 21, when his mother asked him whether he wanted a big party or a guitar to launch him into manhood; he chose the guitar, a Gibson SG that he still uses six years later, and shortly after formed his own band, the Original Hustlers, who played mostly Chuck Berry and Little Richard songs and what Mick laughingly refers to as "our own arrangements of Beatles' numbers".

His step into a national group came when he joined Neil Christian's Crusaders, who had just lost Jimmy Page, but he left after a three-month stint. "We had to dress up in orange shirts, tight black trousers and white boots and wiggle our asses. If you saw how fat I was then you'd know why I didn't fancy it", he admits. But after an ill-fated venture with a band called the Goodtimers with, amongst others, Graham Waller, Dave Cakebread and Bernie Etherington - "We rehearsed every night for five months and folded after six gigs. It wasn't a bad band, either. We had a big fat, bluesy sound" - Mick found himself back with the Crusaders, and, having played "a few gigs" with the magnificient Screaming Lord Sutch's Savages, went on to join a Luton group called Jensen's Moods, where he played with Clive Bunker and Andy Pyle.

His next band was McGregor's Engine with Clive (on drums), Pete Fensome (on vocals) and Andy (on bass. Ex-Victor Brox's Blues Train) again."

Referring to McGregor's Engine, Pete Frame says in his "Rock Family Trees, Vol. 2".
"Jan '67 to Nov. '67. A Luton Supergroup; all had played around the area since Beatles days. This was a power blues band, Cream inspired. Hot locally."

Back to "Beat Instrumental":
Rehearsing in an adjoining room at Caesar's Palace one day, however, was a band called the John Evans Smash who had been told by their managers to get "a blues guitarist". Mick joined, and managed to persuade Clive to go with him rather than work for Commer Motors; the new group included Ian Anderson and Glenn Cornick and was called Ian Anderson'sBag of Blues. Agent Dave Robson suggested Jethro Tull for a name, and their first record, one of Mick's songs, came out on MGM; "Sunshine Day", by Jethro Tull. Some time later, after Jethro's triumphant appearance at the Kempton festival of 1968, he was at last in a successful band."

Mick left Jethro Tull after one album ("This Was") and formed Blodwyn Pig. Made two albums with them - and then established Mick Abrahams Band (initially called Mick Abraham's Pig or Wommet). And swore to never play "Cat's Squirrel" again.

Mick Abrahams Band issued two albums: "Mick Abrahams" CHRYSALIS ILPS 9147 (1971) and "At Last" CHRYSALIS CHR 1005 (1972). Jack Lancaster returns on sax on number two.

In 1975 he recorded "Learning Guitar With" on SRT SRTM 73313. He should know...

Cover above from "Mick's Back" album, INDIGO IGOXCD 501CD - still another one.

Mick keeps on recording infrequent comeback albums. Check out eminent link below.
You can't keep a good man down, can you?

My good friend Miguel Terol mails me on the subject of Mick:
"I recently bought his album "All said and done". Superb album, there's a song that drives me crazy, "All tore down". It's like listening to Peter Green at his best, in this song."
I agree, wholeheartedly! I'm also digging his "Time To Love" from the "Mick's Back" album. A processed guitar tone over a funky rhythm. A bit Robben Ford-ish!

Links:

---