---

Derek and the Dominos: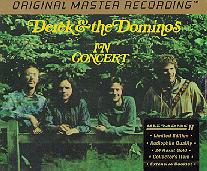 Having left Blind Faith, gigged with the Bramletts and recorded first solo album "Eric Clapton", Eric Clapton finally assembled this band.

Most notable for the song "Layla" (from a wonderful, bluesy album) and for the recording presence of Duane Allman, slide guitar maestro from the U.S. south.

---

"Tell The Truth"(Clapton/Whitlock)/Roll It Over"(Clapton/Whitlock) POLYDOR 2058-057 (1970).
A-Side: Charging along at breakneck speed. Crazy slide that never lets up and voodoo chanting à la the Stones! A bit dense recording. Could've been the Misunderstood...
The tempo feels twice the tempo of the album ("Layla") version - which has better sound quality but is less fun. And somebody wasn't too satisfied with the fast version, since the single was withdrawn as soon as it was issued. But good old Central Records had already received their share - so one day I read in NME that the single was withdrawn and the next day I received it in the mail!

B-Side: Starts out with a brutal wah-wah guitar. Bluesy cut with lots of slide. Rough singing, wailing guitars - a bit messy but good rockin'.
---
Albums:
"Layla And Other Assorted Love Songs" POLYDOR 2625 005 (1971)
"Live In Concert" POLYDOR 2659 020 (1973)

My good friend Miguel Terol tells me:
Are you aware of the extended edition of "In concert"? It was reissued as a 2CD, with lots of additional tracks, and enhanced sound. It's a must! Superb jams, and a very good rendition of "Crossroads".
Follow his advice!

---