---

Count Bishops: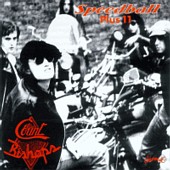 The Count Bishops (later shortened to The Bishops) were the first signings to the Chiswick Record label, and released the Speedball EP (Chiswick Records SW1) in 1975. Mike Spenser who sang and played harp (and later went on to play in The Cannibals) was replaced by Dave Tice before the band's debut album ("The Count Bishops"; Chiswick WIK1) was released. The rest of the band was Johnny Guitar (lead guitar and vocals; later worked with Dr. Feelgood), Zenon De Fleur (guitar/slide), Steve Lewins (Bass), and Paul Balbi (drums). The album also featured some guy by the name of Julian Holland one one track!

They were a fairly typical hot and sweaty British R&B band, although the album failed to capture the power of their live act. By the second album ("Live"; Chiswick CH7) in 1978, the band had shortened their name to The Bishops, and Pat McMullan had replaced Steve Lewins on bass. The album was released in 10 inch and 12 inch versions, although the track listings were the same.

The third and final album ("Cross Cuts"; Chiswick CWK3009) from 1979, had its moments, but the band pretty much faded away after the death of their main force, Zenon De Fleur. He was replaced for several live dates by Blitz Krieg (from Blast Furnace &), but they folded not long afterwards.

The Bishops suffered a bit by being around at the tail end of punk, never being quite as good as Dr Feelgood, and never quite making the big time. They did make one appearance on Top Of The Pops, though.

Since the band split up, a couple of compilations have been released on the Chiswick label. "The Best of The Bishops" (CDWIKD 150) came out in 1995, and the following year "Speedball Plus 11" (CDWIKM 161 - pictured above left) was released.
---
This is yet another page kindly supplied by Gordon Baxter
---
Also thanks to Fredrik Lind!
---
Links:
garage.brinkster.net/bishops: resource website on the Bishops
www.davetice.com: The Website of Dave Tice

---