---

Blast Furnace & The Heatwaves: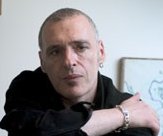 Blast Furnace & The Heatwaves was the band of Charles Shaar Murray (pictured left, sometime around 2005), who was then working for the New Musical Express. They released a debut EP in 1978 ("Trust Me"; Nighthawk HOT1), which featured two originals and two covers. The band, as listed on the sleeve was Blast Furnace (Murray; lead vocals, lead guitar); Skid Marx (harp and posing); Blitz Krieg (guitar, guitar and guitar); Mr. B. Bop (bass, backing voclas and creative tension); and Tom Tom (drums and t'ing). Backing vocals were supplied by the Dublinaires (Phil Lynott and Bob Geldof).

The band were taken to court by disco outfit Heatwave, and were forced to change their name as a result. It was all rather ironic. In that same year a judgement had been made that only a moron in a hurry would confuse the new tabloid newspaper The Daily Star with the communist Morning Star newspaper, yet people were supposed to be unable to distinguish between a highly popular disco outfit with several hits to their name, and a small time R&B outfit who produced their own records.

As a result of the court case the band dropped the Heatwaves part of the name and became "Blast Furnace &" for their second (and last) single ("South of The River"; Nighthawk HOT2). The line-up was Blast Furnace on guitar and vocals; Kevin Allen (bass); John Potter (piano, [ex Wilko Johnson's Solid Senders, John Potter himself informs us. Ed] who went on to form John Potter's Clay if memory serves me rightly, who has a single/EP called "Speedin On" [title of CD provided by John Potter himself. Ed.] and later worked with Wilko Johnson), and George Dare (drums). The law suit and the change of name largely scuppered the band, because I believe they had to withdraw one of the records from sale, and they had to make some changes to the design of the artwork for the second single. Shame really, because they were very good.
---
This is yet another page kindly supplied by Gordon Baxter
---
Links:
John Potter's website
---

---