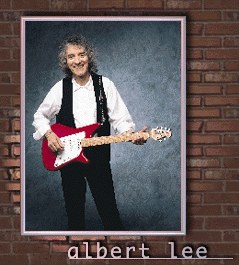 A true guitar wizard, mainly in a country (rock) vein.
A Telecaster (and Ernie Ball signature model) master with a tour de force number in "Country Boy".




Random bio:



Chris Farlowe & the Thunderbirds mid and late 60's
Poet & the One Man Band '69
Heads Hands & Feet early 70's
Emmylou Harris and the Hot Band '76-'78
Eric Clapton '78-'83 (albums: "Just One Night" '80, "Another Ticket" '81, "Money And Cigarettes" '83)
Everly Brothers reunion '83
Hogan's Heroes late 80's onwards
Bill Wyman and the Rhythm Kings '96
Plus lots of sessions, often in Nashville and elsewhere in the U.S. And reunions with Chris Farlowe!