---

A P.A.W.S. Page

---
Totta's Bluesband - and extended musical family (6)
---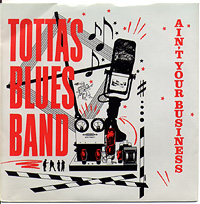 82 April 17: TBB plays live at the club "Studion" in Stockholm (still with Gunnar Pettersson on drums):
Songlist featured "Don't You Lie To Me", "Blues Won't Let Me Be", "How Many More Years", "We'll Play the Blues for You", "The Last Time", "Bring It On Home". Review in JEF 56:42

82: Niels Nordin (ex-Hawk on Flight, ace Göteborg jazzrock or 'fusion' group) replaces Gunnar Pettersson on drums in TBB. Gunnar's steady TV gig every weekend prevents him from touring.

82 Sept 16: TBB goes live at "Nefertiti", Göteborg, playing one set before U.S. pianist Eddie Boyd's set. Niels Nordin on drums. Songlist: "Chicago Bound", "Bring It On Home".
Third set combines Boyd with a couple of TBB's. JEF 59:50 - first good review in JEF!

82 Nov - 83 March: TBB record their 2nd album "Saturday Night Boogie Woogie" in Göteborg.
---
Back
Forward
---
Mail me at christer@fridhammar.com
---