---

A P.A.W.S. Page

---
Totta's Bluesband - and extended musical family (5)
---

80-81: Nationalteatern transforms into Nationalteaterns Rockorkester (less theatre, more rock music) and features Totta Näslund vo, gtr, Ulf Dageby gtr, vo, Lars-Eric Brossner keys, Nikke Ström bs and Håkan Nyberg drums.

Håkan Nyberg much later becomes a member of The Buckaroos - and even later of The Mescaleros too. In the year of 2000 we will find Nikke Ström as the regular bassist at his side in The Mescaleros.

After breakup of Nationalteatern, Ulf Dageby embarks on solo career, issuing solid albums with sharply penned lyrics. And the next step is film soundtracks.
Nikke Ström and Bengan Blomgren are from now on often found at his side, be it a solo album or an (unfrequent) live gig.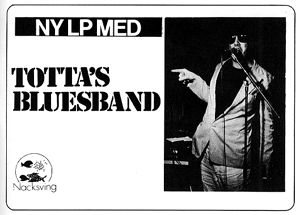 81 August 28-29: Totta's Bluesband record at "Renströmska Jazzklubben", Göteborg, creating their first album simply called "Totta's Bluesband. Live at Renströmska". (feat. Blomgren, Andersson, Näslund, Ström and Pettersson):
Track list: "We'll Play the Blues For You", "Last Time", "Chicago Bound", "Me and the Devil Blues", "How Many More Years", "Don't Burn Down the Bridge", "Sittin' on Top of the World", "One Way Out", "Just Your Fool", "Double Trouble".

81 Nov. 14: Totta's Bluesband - which we from now on call TBB - is support act to Jimmy Johnson Blues Band at "Kåren", Göteborg (review in Swedish blues magazine "Jefferson" - from now on called JEF - published in issue No. 54:51)

81: The album "Totta's Bluesband. Live at Renströmska" is issued as NACKSVING 031-40 by Göteborg record label NACKSVING, headed by Tommy Rander. Album is reviewed in JEF 55:53
Early on, TBB found little sympathy with "Jefferson"'s writers. However, when reading the files it is obvious that TBB gradually won them over.
---
Back
Forward
---
Mail me at christer@fridhammar.com
---