Blues from Toronto:
The Official Biography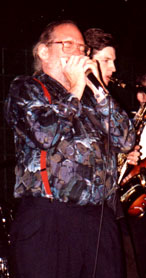 Steven C Barr
photo © Karla Ingleton

STEVEN C AND THE RED ROCKETS?
. . . Well, first imagine taking a generous helping of guitar-driven Chicago-style blues--both traditional and contemporary. Stir in a mix of 1940's jump blues and big band swing music, and add a touch of traditional jazz. Now, season with just enough rock music to keep it from becoming pure nostalgia, and garnish with familiar popular tunes and witty original material. Let the result cook for nine years of experience--then serve night after night with mature attitude and professional stagecraft--a dish of tightly-played music and exciting entertainment for enthusiastic fans! That's the RED ROCKETS! With a repertoire running from the urban blues of Muddy Waters and B. B. King, through traditional sounds like Tampa Red and Big Bill Broonzy, by way of vintage Rock 'n' Roll and R&B favourites, all the way to the swing styles of Lionel Hampton and Count Basie--not to mention others--along with well-crafted blues originals from the witty pen of Steven C--the RED ROCKETS have something to offer almost everyone. Their tape release, "43rd & Queen", sold several hundred copies from the stage in a few months, and was selected by CKLN's Dave "Dr. Feelgood" Barnard from all of 1989's blues releases for one of two honourable mentions after making his "Blues Top 20." Plans are currently under way for a "second helping" of recorded blues, as well.
The RED ROCKETS launched their blues career from the stage of Lee's Palace in 1986, hosting a weekly open stage for over a year while playing other venues. In 1987, they became the house band at Chicago's Diner, playing weekly for two years--shows still remembered by many blues fans. Between then and now, the band has played almost every Toronto blues club, including Grossman's, the Black Swan, the Horseshoe, Clinton's, the El Mocambo, and others now vanished. They have played across southern Ontario, including London's legendary (now closed) Firehall--opened for and backed blues legend Wild Child Butler in a Sudbury concert--opened for Downchild Blues Band at the Diamond (now Phoenix) to a large and enthusiastic audience--and closed the 1989 Harbourfront Soul and Blues Festival before a packed and cheering house. In late 1996, the RED ROCKETS played a weekend at local blues landmark Albert's Hall, and were booked for a return engagement prevented by the room's sudden and unexpected closing. Since that time, a serious head injury suffered by leader "Steven C" sidelined the group for a period in 1997, but the group continues to play regularly, even after Steven C relocated to Oshawa. The RED ROCKETS have played many venues, large and small, treating every show with the same attention and providing the most entertainment possible.

Unlike many bands, the STEVEN C AND THE RED ROCKETS prefer to avoid fixed, permanent group lineups. Leader Steven C has, in fact, been called "Toronto's John Mayall" because of the numerous musicians who appear with the band at different shows. The group draws from a "short list" of about half-a-dozen highly talented guitarists, including the long-time original players Mike "Texas Blues Tornado" Tabares and "Madagascar Slim", the noted guitar star, as well as current Toronto sensations Darren Gallen and Jackson Myers, both of whom also headline the Chris Armstrong group as well as other Toronto blues groups. Bass guitar is ably handled by either long-time ROCKETS bassist Peter Novar or relative newcomer Maryanne Mitchell, both equally talented. Toronto appearances generally feature experienced blues drummer Bruce Brooker, sometimes replaced by one of several equally talented percussionists; the "list of players" also includes saxophonists and keyboard artists if stage room and payment allow for extra musicians! The flexibility of this arrangement insures a tight, talented group at all times, without worrying about the availability of particular players for a given date or tolerating less talented but readily available musicians as band members.

The "head man" of the shows, of course, is the leader, Steven C. Barr. STEVEN C has been an active blues fan for some 40 years, and a harmonica player since 1967 as well. He has appeared on stage with a long list of noted blues artists, either as they passed through Toronto or on his regular visits to his old home town of Chicago, Illinois, where he made many guest appearances with Windy City bands and artists (including an opportunity to take the stage at a small club on the city's south side with noted harp player Billy Branch, in front of an audience of Black blues fans) A list of his "guest spots" would include too many names to list, although it could be started with Carey Bell, Buddy Guy, the house band at Chicago's famed Kingston Mines, Joanna Connor and many others. STEVEN C is also a noted record collector, owning around 25,000 78 rpm discs, from which he draws a substantial part of the band's style and repertoire learned from discs by such groups as those led by Louis Jordan, Lionel Hampton, Count Basie and Duke Ellington. Through his record collecting, he became acquainted with a young man, now himself a noted musician, Jeff Healey, who often sits in with the RED ROCKETS when a busy schedule allows him the opportunity.

Unlike many bands, the RED ROCKETS strive to provide entertainment for their audiences. As good as the music is, crowds often also enjoy the showmanship of STEVEN C and the group. Years of watching some of the continent's premier blues groups, many of whom with years of experience in honing stagecraft before critical audiences, as well as occasional chances to play before such audiences himself, give STEVEN C and the band an ability to please audiences above and beyond blues lovers, using a today seldom-seen crowd-pleasing stagecraft which used to be a standard approach among blues bands. For STEVEN C AND THE RED ROCKETS, there's no such thing as a "throwaway gig"--every engagement is a chance to put on an energetic, entertaining evening of the best blues possible!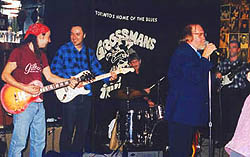 Sunday, October 25, '98, was the 12th annual "Grossman's Birthday Jam". The event which celebrates Steven C's birthday has become a Grossman's tradition.



Excerpt from previous story:
"The Toronto band will include Darren Gallen and Jackson Myers, as well as Bruce Brooker on drums

and, from years ago, Joe Burns on bass, as well as a number of special guests. No verification as I type, but Jeff Healey is in town and has been invited! Red Rocket fans and blues lovers in the Toronto area are invited to any or all of the events...no cover, as usual, and the beer, we hope, will flow freely!"
Photographs above from the Birthday Jam kindly provided by Stuart's "Live Onstage Blues magazine for Durham Region"