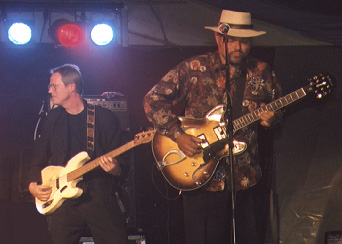 Lars Mellqvist & Mr Bo at Åmåls Blues Fest 2001
camera: Vanja Fridhammar
Mr Bo & the Voodooers:
Mr Bo - vocals, guitar
Bo Hansson - Hammond organ
Lars Mellqvist - bass
Roger Mörck - drums
---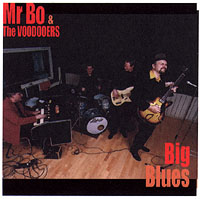 New CD by Mr Bo & the Voodooers: "Big Blues"
on LAST BUZZ RECORD Co.
Official Website with new URL: http://www.mrbo.se
Christer caught up with the Voodooers at Henriksberg's "Tre Våningar Blues", Friday Sept. 3 '98:
"The most powerful Mr Bo outfit yet, the Voodooers formly exploded into their first number. Proudly behatted Mr Bo, armed with his (made-in-Texas) Robin guitar and a silver face Super Reverb (plus a cable: that's all you need, folks!) sang and played with obvious joy and supreme confidence. The first set gave us a long and beautiful "It Takes Time" (an Otis Rush song - although my mind wandered off to the Bloomfield & Gravenites version on "Live At Bill Graham's Fillmore West" cut in '69 with Ira Kamin on organ), "Part Time Love", "Nightlife", "Howlin' For My Darling" and finished with a fast instrumental: "All About That Girl".
Second set opened with a great "Let The Good Times Roll" and rolled on with "Santa's Been Messin", "Somebody Loan Me A Dime", "I Believe To My Soul" and more.
Third set: "Don't Burn Down That Bridge", "Big Legged Woman", "Caledonia" (a firm favourite of mine!), "I'll Take Care Of You"...

To my ears, Mr Bo's vocals never sounded better. The soultinged material seemed to suit his voice even more than the regular Chicago stuff: it should have been more difficult but it sure didn't sound that way...
Guitar buffs take notice: this guy knows how to get a righteous blues sound out of a guitar!

The Hammond swirled and sighed and roared in all the right places. The mere sight on stage of a battle scarred Hammond with a Leslie cabinet fills you with anticipation. And Al Kooper - sorry: Bo Hansson - lived up to all our expectations.

Messrs. Mellqvist and Mörck built the firmest foundation imaginable. No wonder Lars Mellqvist is a busy musician.

And the audience (always a good crowd at the Henriksberg gigs) enjoyed themselves hugely & loudly.
If I had a hat I'd take it off this minute as a tribute to the hardworking ladies of the local blues society. And then I'd put it back on and queue up for that next Voodoo gig!"
Press cuttings and band presentation in Swedish