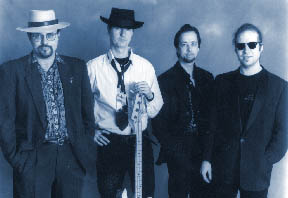 The Nightcats:
L. to R.: Mr Bo, Lars, Jim, Lasse
(Photo: Henrik Dahlman)
Mr Bo was for a long period the leader of the (now defunct) Göteborg blues band the Nightcats which also featured
Lasse Olsson - vocals, guitar and harmonica
Lars Mellqvist - bass (now with the Voodooers plus Al Tehler's band)
Jim Ingvarsson - drums and percussion (to the Instigators - and then to the Bluebirds).

The Nightcats issued two CD's on LAST BUZZ RECORD CO.:
"Got Blues If You Want It!" BUZZ-8002 (1992)
"Tune In The Blues!" BUZZ-8003 (1995)

Click to enjoy the elegant cover art!
Photos & covers by Henrik Dahlman.