---

Todd Sharpville:
photo © Todd Sharpville



"The best British player I've heard since Peter Green" said Hubert Sumlin.

Guitarist, vocalist - and leader of Todd Sharpville & The Blues Barons. He experienced major breakthroughs in 1994, when he won the category "Best Album" (with "A Touch Of Your Love" album) in the British Blues Awards (British Blues Connection - Europe's equivalent of the W.C. Handy's), and in 1995, winning the "Best Guitarist" award.

In the late 90's a musical sidekick of Dana Gillespie's.

New album "The Meaning Of Life" is out in October 2001 and is Todd's comeback on the blues scene. Album features Mick Taylor, Snowy White, Leo Sayer, Paul Lamb, Keith Dunn and Earl Green.
---
Todd Sharpville & The Blues Barons lineup early 2001:
Todd Sharpville: Guitar/Vocals
Mighty Keith Dunn: Vocals/Harmonica
Paddy Milner: Piano/Hammond B3
Mr. Chilli: Bass
Steve Washington: Drums
+ West Coast Horns:
Dom Norcross: Tenor/Alto/Baritone Sax
Jason Osborne: Trumpet
---
Todd Sharpville is a busy guitarist who is featured on at least 24 albums.
A few albums on the blues scene are:

Dana Gillespie: various, a.o. "Back To The Blues" CD (1999)


Earl Green: "Feel The Fire" CD (1996)
: Two tracks - "Leaving This Town". A driving shuffle with a wailing guitar solo. Plus "Living My Life Without Her": a slow smoky blues with a lowkey fleetfingered guitar solo.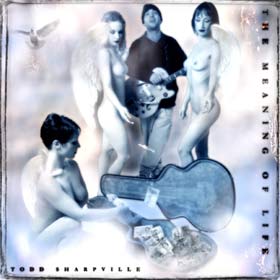 ---
Albums issued in his own name:
"Touch Of Your Love" RED LIGHTNIN' Records RLCD0095 (1994)
"The Meaning Of Life" (issue Oct. 2001) cover pictured right.

Links:
www.toddsharpville.com: read all about this impressive young guitarist! Complete discography. I got a lot of valuable info from this page - thanks to Phil Corney!

---