---

Love Sculpture (w. Dave Edmunds):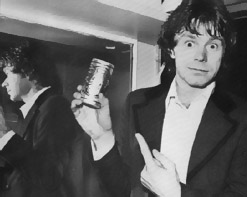 Perhaps not a blues band at heart, but they certainly knew how to play power blues.
I remember "The Stumble" particularly, boggling the minds of me and some (already-in-a-blues-group) friends in Sweden at the time. How did he do it?
Love Sculpture was masterminded by guitarist extraordinaire Dave Edmunds. Who was very much aware of the commercial possibilities of the "blues boom" in '68.
He then developed into a rock'n'roll/country guitar picker of world class, a producer (avid Spector-fan), composer, Rockpile member - but not a blues musician.
A small blues connection just for the record: He did produce Foghat's first album in '72 - and that band found success in the U.S. Perhaps a man with a golden touch? His own solo albums have not been too successful saleswise, sadly not being helped by his excellent reputation as musician and producer.
---
Guitars and Amps Dept:
Guitar: Gibson ES-335 '59 (some say '58) dotneck.
Amp: Fender plus Marshall cabinets. No distortion unit.

Beer:
Boy Howdy

(Bluesy) album:
Love Sculpture: "Blues Helping" PARLOPHONE PCS 7059 (1968)

Links:
The Official Dave Edmunds Website
The Unofficial Dave Edmunds Home Page
Tribute to Dave Edmunds

---