---

The John Dummer Blues Band: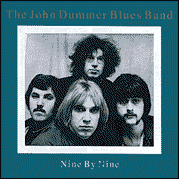 Hardworking bluesband with John (Tony) Dummer (drums) and 'Thump' Thompson (bass). Slogging up and down the motorways (tea pause at the "Blue Boar"?) with their changing line-up.

First two albums boast U.K. blues stalwarts like Tony McPhee (first album only) and Dave Kelly on guitar, Bob Hall (piano) and Jo Ann Kelly (vocals). Early lineup also included lead guitarist Adrian 'Putty' Pietryga.

---

"Travelling Man" (McPhee/Kelly)/"40 Days" (Roth) MERCURY MF 1040 (1968)
A-Side: Brisk twelvebar with lots of harp. Slows down in the middle to a Zeppelinish tempo and then accelerates once again - with lots of snarling blue guitar. Not much fun. Solid bass and drums but the guitars clash with the rhythm - and with each other.

B-Side: Medium twelvebar, stays at one single speed and is marginally better. But this was NOT a fun single. I guess these guys made BIG strides later on...

---
"We have an album by one of the most exciting British Blues bands to emerge in the current Blues revival. John Dummer is the name and "Cabal" is the title of the new album released on the MERCURY label. John has very quickly established a reputation with Blues fans and this is his eagerly awaited first L.P. Apart from such standard repertoire as John Lee Hooker's "Blue Guitar", this album contains several compositions by the group which have become firm favourites on all their club dates."
Record company copy from "The Record Buyer", Febr. '69.

Albums (a bit uncertain in places...):
"Cabal" MERCURY SMCL 20136 (1969)
"John Dummers Blues Band" MERCURY SMCL 20167 (1969)
"Famous Music Band" VERTIGO 6382 040 (1970)
"Blue" VERTIGO 6360 055 (1972)
"Try Me One More Time" VERTIGO 6382 040 (1973)
"Oobleedoobleejubilee" VERTIGO 6360 083 (1973)

"Nine By Nine" (cover pictured above) is a late 90's CD collection of old tracks. Nice booklet.

---