---

Groundhogs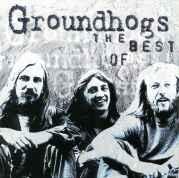 felt heavier than most other blues bands (and from 3rd album onwards became heavier still). Tony McPhee made a grim face and forced his Gibson SG (through Laney) to scream in pain. Trademark guitar vehicle: "Cherry Red". To me, Groundhogs were always a bit too somber and massive - but admittedly very professional. In 1970 you heard excerpts from the "Thank Christ for the Bomb" album all the time at the Marquee, and the record shops made prominent displays. Could have meant a real commercial breakthrough.

Harpist Steve Rye left after first album, leaving the eternal line up of Tony, Peter Cruickshank (bass) and Ken Pustelnik (drums).

Still a blues band on albums "Scratching The Surface" (1968) and "Blues Obituary" (1969), both issued on LIBERTY label. But McPhee says in interview in Beat Instrumental Oct. '72:
"You'll find that there are a couple of things on "Blues Obituary" that 'aren't quite blues'. We were already starting to get into other things. "Thank Christ" got us a new image for the natural things we started to sing about. "Split" you could say, finally killed the blues thing off. But I'd still say, if anyone asked me, that the Groundhogs are a blues band".
The Groundhogs then got into heavier trio rock.

But being an artist of many talents, Tony McPhee also performed as solo artist, displaying his prowess as acoustic blues picker. Still does as far as I know.

---
Period Albums - from the beginning:
"Scratching The Surface" LIBERTY LBS 83199 (1968)
"Blues Obituary" LIBERTY 83253 (1969)
"Thank Christ For The Bomb" LIBERTY 83295 (1970)
"Split" LIBERTY 83401 (1971)
"Who Will Save The World" UNITED ARTISTS 29237 (1972)
"Hogwash" UNITED ARTISTS 29419 (1972)
Links:
www.groundhogs.net
The Unofficial Groundhogs (Squealing Pup) Appreciation Site
Tony McPhee Tribute Page
Steve Kennedy for info and bookings

---