---

Giles Hedley:
---
Mail from Giles Hedley dated Nov. 9 2001:
"the Aviators and I have a new CD out: "Low Flying". I'm really pleased with it - It was recorded live in France and as well as the usual lap steel, bottleneck, simultaneous nose and mouth harp playing etc it has some spectacular playing by Sam Kelly (drums) Richard Sadler (bass) and special guest Christophe Pélissié. Christophe is a stunningly inventive and emotional guitarist who I seriously think is one of the undiscovered greats of blues."
---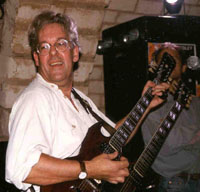 Guitarist, vocalist and sometimes leader of Giles Hedley Blues Band, Giles Hedley and Really The Blues, or Giles Hedley & The Aviators.

Lineup of the Aviators in 99:
Giles Hedley: vocals, guitars, harp
Richard Sadler: bass
Sam Kelly: drums

Journalist Alison Fearnley caught up with Giles Hedley and Really the Blues at the "Station Tavern" in '92:
"I recommend you start your induction into the world of blues with a Friday night visit to the Station Tavern to see the 'house band' Giles Hedley and Really the Blues, who quite literally brought the house down a few weeks ago (but then that's another story). Their repertoire wanders from the Delta to Chicago, with Giles using a two-inch slice from a glass bottleneck as a guitar slide - authenticity, it would seem, is all. He has a keyboards player who doubles on sax and clarinet and will leave you wondering why most of today's chart musicians bother getting out of bed in the morning."
A photo from a Station Tavern leaflet of the Giles Hedley Blues Band displays a quartet featuring guitar, keyboard, bass and drums, Mr. Hedley brandishing an impressive Ibanez double neck (à la Jimmy Page's classic Gibson model). A steel guitar in front of him looks promising, too!

Big Joe Louis mailed me on Oct. 30, '98:
"Giles Hedley & Really The Blues (later GH & The Aviators) - GH sings, plays guitar, steel guitar and harmonica in a sort of slightly jazzy blues styles and plays solo country blues. He's played at the Station for almost as long as I have and made a live LP there in 1990."
Much more in this site on Giles Hedley:
Giles Hedley's own introduction to himself and his current band (Aug. 25 1999)
Q & A with Giles Hedley: complete interview

(Above photograph kindly supplied by Giles Hedley)

---