---

Eugene 'Hideaway' Bridges: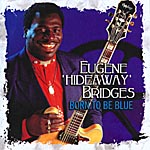 Labelled "The new icon of the blues".

Louisianaborn black singer whose guitar playing as well as general appearance make people think of a young B.B. King - but with a voice à la Sam Cooke (tour-de-force: "A Change Is Gonna Come"). No bad combination, that! Lots of original material plus songs by Sam Cooke and Jimmy Reed.

Played the blues diligently in Louisiana and Texas, then travelled to Paris, France looking for some action and instantly hooked up with Big Joe Turner's Memphis Blues Caravan as a vocalist and guitarist. Left the caravan when hitting the U.K. and started a new career with a vengeance when elected Best Male Vocalist in 1998 and 1999 in the British Blues Connection's yearly poll.

Band lineup June '97:
Eugene Bridges: vocals, guitar
Roger 'Mad Dog' Cohen: 2nd guitar (in Nov. '00 Jamie Henderson)
Peter Zivkovic: keyboards (The Blues of Cain, Big Joe Turner)
Robin Clayton: bass
Alan Savage: drums

Albums:
"Born To Be Blue" BLUESIDE WESF 105 (1999) produced by Mike Vernon
"Dedication Live" BRIDGES
"Man Without A Home" ARMADILLO ARMD00009 (2000)
Links:
Armadillo Music Limited
Blueside Records
A division of Westside.

---