---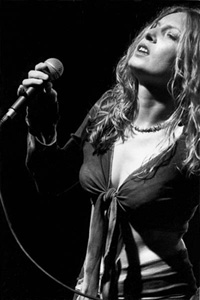 Corrina Greyson
I discovered the amazing Corrina Greyson through a riveting performance at 'The Favourite', London, August 14 1998, amply followed the same year by the excellent mini CD "This Way Up" by LowerDown, her former band (also feat. bassman Jeff Walker listed below).
Her next step was The Corrina Greyson and Matt Schofield Band. I have only heard them on one of the tracks of the BLUEPRINT 2000 compilation CD: a rocking number called "Why Get Up" (why, indeed!) penned by one of my favourite Texans, Bill Carter (and quite logically recorded by The Fabulous Thunderbirds). I do not know if they recorded any proper CD! The lineup was as follows:
Corrina Greyson: vocals
Matt Schofield: guitar/vocals
Jonny Henderson: keys
Jeff Walker: bass
Evan Jenkins: drums
For historical purposes I enclose their informative press release below, giving me opportunity to apply some cross references.
The band is defunct, and I did not know of Corrina Greyson's current career - until I received the following kind e-mail from Corrina on Sept. 26 2005:.
It so happens that I moved out of London for a couple of years to get my head down and work on my solo project.
I've almost finished writing my album and have started putting on some private shows in London to showcase the material and my great new band.

On Guitar there's the wonderful Winston Delandro, on drums Evan Jenkins still, Bass is 'The professor'- Rex Horan and for Hammond you get a suprise every time.

I've also been featuring other artists at the shows. Next month it'll be the very talented young Andy Cortes. You should check him out. [ed's note: Andy Cortes website]

Thank you so much
All the best
Corrina Greyson


To keep up with Corrina's music, please visit: http://www.myspace.com/corrinagreysonblues
Matt Schofield leads his own band today. Please check out his website www.mattschofield.com
Photograph by Sam Hare (provided by Corrina Greyson)
---
Representing a new generation of British blues, this exciting new band features some of the countries hottest young talents who already boast an impressive list of credentials.

After spending the last three years crossing paths in various bands (backing artists including KIM WILSON (T-Birds), STEVE CROPPER, BIG BILL MORGANFIELD, OTIS GRAND and DANA GILLESPIE), this group of friends decided it was time to join forces and play blues with their own approach and sound.

The musicians are currently in the studio, creating a fresh and energetic take on the blues, whilst retaining a deep understanding and respect for the music's roots and tradition.

CORRINA GREYSON is quickly developing a reputation as one of the countries leading up-and-coming blues vocalists, as evidenced by her recent nominations for the "BEST UK BLUES VOCALIST OF THE YEAR" by the British Blues Connection, and by her commanding performances throughout the UK at the countries top venues and festivals.

Thing also bode well for her future in Europe after her bands storming performances at COGNAC'S BLUES PASSIONS 2000.

Corrina entered the blues arena in 97' when she hit the stage with the authentic 50's Chicago outfit LOWERDOWN. This gave her the foundation in the blues tradition on which she now builds.

Corrina is a charismatic performer with undeniable presence, Described as, `A voice of the future. ` (Fran Leslie - Blueprint)

Despite his tender age of 22, MATT SCHOFIELD has already established himself as one of the most exciting and in-demand guitarists on the blues scene.

He has appeared on DANA GILLESPIE'S two most recent albums and accompanied the likes of BIG JAY McNEALY and jazz saxophonist BOBBY WATSON, and opened shows for two of his great heroes, namely JIMMIE VAUGHAN and ROBBEN FORD.

Matt's passionate and energetic playing is always displayed with maturity beyond his years, never overshadowing his desire to embrace the song.

Matt plays an incendiary strat…. his playing is positively spine chilling. (Blueprint).

At just twenty years of age JONNY HENDERSON has already proved himself in the international blues arena. His year with Otis Grand saw him play with an impressive list of artists including Texas blues stars ANSON FUNDERBURGH and KIM WILSON, and the STAX soul legend STEVE CROPPER to name just a few.

Equally at home at the blues piano or smoking B-3 organ, Jonny's unique talent makes him a great asset and welcome bonus to the band.

EVAN JENKINS is widely regarded as one of the finest contemporary blues drummers in London. After majoring in jazz percussion in Western Australia he went on to perform and tour with RONNIE SCOTT and MORNINGTON LOCKETT, and played with THE WESTERN AUSTRALIA SYMPHONY ORCHESTRA.

During his time as recording artist with EMI he received much deserved exposure in the world of rock and pop and in the last few years, due to his natural feel for the blues Evan has found himself playing with many international artists including BIG BILL MORGANFIELD and LARRY GARNER, at festivals all over the world.

JEFF WALKER is a well-known and respected figure in the London blues scene. His powerful electric and acoustic upright bass sound has driven many great bands and appeared on countless records including LEE SANKEY'S number one selling album 'My Day Is Just Beginning'.

A long time friend and musical partner of Corrina and Matt, Jeff's playing always displays the vast experience he has acquired, both on funk and soul sessions and as a solid down-home R&B player.

His infectious style and creativity infuse the stage inspiring his fellow musicians, reflecting the reason for his title: Jeff `The Funk` Walker.

---