Part 16: Big Joe Louis and his Blues Kings at the "Station Tavern":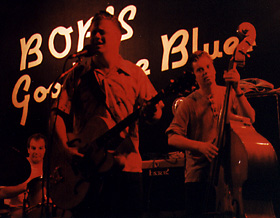 Back to the "Station Tavern" for the first set of Big Joe Louis and his Blues Kings. Which proved to be amazing. I've heard the "Big Sixteen" album of course, as well as the "Wine Head" vinyl single on SPINOUT (a gem!), but in my humble opinion these records do not do any justice whatsoever to the band's abilities. The records are good - but this was marvellous. Joe's vocals came through in a BIG way and George's harp gave you goose bumps all over. Plus a beautifully stable rhythm section.

After the first set we trooped off towards "The Favourite". It felt strangely discourteous after such a masterful set, but Joe said decisively: "You can see us here any Friday, but you will never see the birthday party lineup together again". So be it.