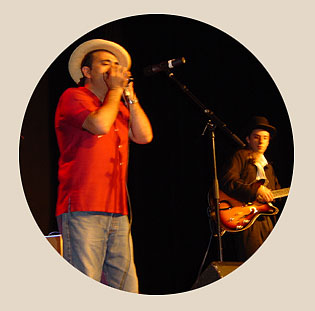 Little George Sueref
Harmonica, vocals and guitar with Big Joe Louis & His Blues Kings. Four compositions on their "Big Sixteen" album (1996). Also gigs as Little George Sueref & The Blue Stars, an outfit with one CD under its collective belt.
A gifted singer and musician, George has an unusually highpitched voice reminiscent of those of certain classic soul singers.
Big Joe Louis praises him in a Blueprint interview from July '97:
"George does all sorts of stuff. He's incredibly talented. Does all sorts of stuff. Does soul material which he writes; producing and so on. He's really come on. When he started playing with me, he'd only been playing for about a year and a half. Since then, you know, I can't praise him too highly. He plays guitar, harmonica, piano, played a bit of drums, plays double bass, bass guitar. Had a go at - he took up the trumpet once. He's certainly got it. Very annoying, he can pick up everything."
I'm taking the liberty here of quoting a long passage from the WOMAD 2002 Festival Official Programme:
The Blues will never die - not if Little George Sueref has anything to do with it! Born in the UK of Greek parents Little George moved to London to seek out a career path in music. He was deeply inspired by the classic down-home rootsy blues of Jimmy Reed, Snooky Pryor, J.B. Hutto and Muddy Waters, as well as the more soulful sounds of Johnnie Taylor and Sam Cooke.
He joined the hardworking and hard playing Big Joe Louis & His Blues Kings as vocalist and harp player and toured all over the UK, Europe and the World. As time went on, Little George's voice began to win it's own dedicated coterie of fans and he decided to form his own band, whilst keeping his slot with Big Joe Louis. Blueprint magazine conferred their 'Harp Of The Year' award on him for three years running.