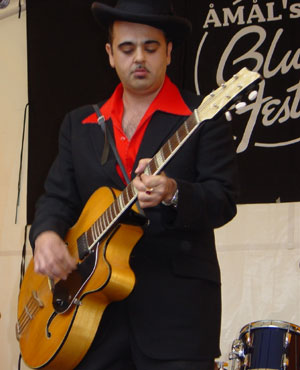 Little George Sueref cont.



Finally, playing in two bands simultaneously became impossible and Little George decided strike off on his own after twelve fantastic years with Big Joe Louis. With his own backing band, The Blue Stars, featuring King David Purdy on guitar, Matt Radford on double bass and Mike Watts on drums, all top kahunas of the UK blues scene in their own right, Little George's solo career began to take flight.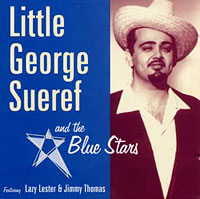 In 2000 he recorded an album for Pussycat Records, featuring to-die-for collaborations from blues legends Lazy Lester and Jimmy Thomas, which went on to become a blues best seller on both sides of the Atlantic and one of Mojo Magazine's 'ssential Blues CDs'.
Existing membership of the Little George fan club includes prestigious names like John Peel, Jools Holland, Andy Kershaw, Charlie Gillett and Paul Jones. His raw unadulterated style compares favourably with that of blues legends like Ted Taylor, J.B. Lenoir and Little Willie John. 'Essential blues', as Mojo magazine put it so succinctly!
End of quote from the WOMAD 2002 Festival Official Programme
Official Website: George Sueref & The Blue Stars
There is also some stuff at our Knights In Blue Denim Pages