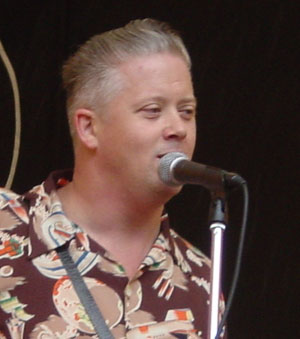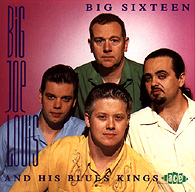 Big Joe Louis
cont.
At the Station Tavern gig back in '98 the Blues Kings boasted Little George Sueref on vocals / harp / guitar, Matt Radford on standup bass and Dino Coccia on drums. But the Blues Kings are not a definite band as such: Big Joe assembles his cohorts from a pool of trusted musician friends when a gig or recording session is in the works. Still, more often than not Matt Radford can be found holding down the position of Mr. Bassman.
Speaking of lineups, the Blues Kings on the CD cover above are from left to right: the eternal Matt Radford, Big Joe himself, drummer Brian Nevill in the back in green shirt and Little George Suref.
Back to Åmål Blues Fest 2004: BJL gave us two great shows on Friday night and Saturday afternoon, performing solid stuff like "See My Jumper Hangin' On The Line", "She Was All The World To Me", "Wine Head", "I Don't Want A Skinny Woman" and much much more. Saturday was particularly impressive: BJL's great rapport with the audience and the vastly better sound quality due to the small format.
Big Joe has recorded and issued several records (ACE, Blue Horizon, Spinout), toured the world (Russia, Las Vegas, Mustique (!), Gothenburg...) and established himself as a major force on the UK blues scene as well as on the world wide one. Trust Vanja & me: It could not have happened to a nicer guy.