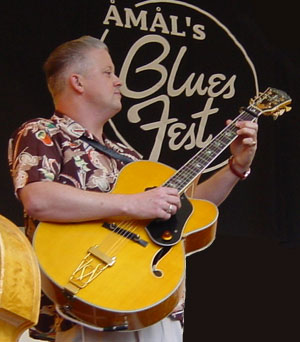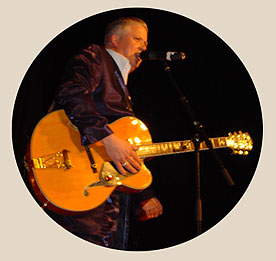 Big Joe Louis
The first time we caught Big Joe on stage was at the Station Tavern pub in London one fine evening in August 1998. A truly amazing gig. We had heard the "Big Sixteen" CD on ACE RECORDS, as well as the "Wine Head" vinyl single on SPINOUT (a gem!), but in my humble opinion these records do not do any justice whatsoever to the band's abilities. The records are very good - don't get me wrong - but this was marvellous. Big Joe's vocals came through in a BIG way and George's harp gave you goose bumps all over. And the rhythm section was just as good. We lapped it all up.

This true gentleman was born in Jamaica, West Indies, and moved to the UK during the 1970s. In due time he found the perfect blues guitar sidekick in David Purdy. Together they formed the mighty duo The Roadmasters and soon hit the road. But time passes and these days David leads his own King David's Trio - and of course Big Joe fronts his Blues Kings.
Have a look at some photos Vanja snapped of the magnificient King David's Trio at the blues pub "Ain't Nothin' But..." in London on Nov. 10 2002. You will recognize a couple of faces from the Åmål crew...