Diz was once the leader of famed Diz and the Doormen.
"Led by British pianist/vocalist Diz Watson, Diz and the Doomen imported the sounds of New Orleans-style R&B and rock to the United Kingdom in the early-1980s. Their 1981 debut album, Bluecoat Man featured guest appearances by New Orleans-born saxophonist Lee Allen and trumpeter Roger Lewis of the Dirty Dozen Brass Band and included such classic New Orleans tunes as "Blow Wind Blow", "Mardi Gras In New Orleans" and "Sick And Tired". An early contributor to the band, Charlie Hart, bass player for the Ronnie Lane Band, described the group's unique approach as "different from the average British R&B Bands playing lumpy shuffles. The music was rhumba-based, rhythmically complex and echoed Africa." ~ Craig Harris, All Music Guide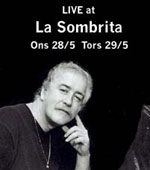 His website below sez: "Diz Watson, musician, one of the rockinest piano players in the world - is a quintessential exponent of New Orleans style piano ­ an exuberant mix of Barrel House, Rhythm and Blues, Rock 'n' Roll and Boogie Woogie - influenced by Fats Domino, Huey "Piano" Smith, Dr. John, James Booker and Professor Longhair. Recordings include critically acclaimed Bluecoat Man (Ace Records, London) with Fats Domino sidemen Walter Kimble, Roger Lewis and influential saxophonist Lee Allen; live album recorded with Dr. John, Such a Night (Spindrift Records)."
Guitar player Crispin Gill tells us: "I met Diz in Plymouth, Devon, UK around 1975 & started playing gigs with Diz in pubs in Plymouth. I have played with Diz ever since - doing the odd gig here & there."