---

Daddy Longlegs: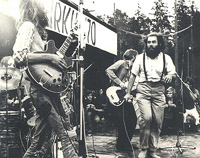 Daddy Longlegs were a bunch of Americans, resettled in the British countryside. At the Roundhouse in London in 1970 we enjoyed the first generation Daddy Longlegs (lineup of the Warner Bros. album) featuring Moe Armstrong (vocals), Steve Hayton (guitar), Kurt Palomaki (bass) and Cliff Carrison (drums). They really got the crowd going with Armstrong's country bumpkins antics (Santa Claus on speed) and Hayton's driving Gibson 335.

Not a blues band by any means (albeit the drummer had a blues background in the U.S.), but since I have the voting power here I list them anyway! I would have loved to have them on any blues festival!

Picture above © Moe Armstrong who kindly has supplied me with lots of material. Click on photo for a larger sized picture plus poem by Moe himself.
---
"High Again" (Hayton/Armstrong/Palomaki/Carrison)/"To the Rescue (Wet Putso)"(Booger Hams) WARNER BROS. WB 8012 (1970).
A-Side: A good barnyard stomp with cheerful singing, whistling and the spirit of Acker Bilk at the end. Not yer average psychedelic blues...

B-side: Starts with a bloodcurdling shriek, then the tough guitars enter the door. More rhythm than melody. And then the tempo changes abruptly and this time the spirit of Carlos Santana (or Quicksilver M.S.) takes over the soul of the lead guitarist. I'd say interesting. And quite good.
---
Albums:
"Daddy Longlegs" WARNER BROS. WB 3004 /U.S. number/ (1970)
"Oakdown Farm" VERTIGO 6360 038 (1971)
"Three Musicians" POLYDOR 2371 261 (1972)
"Shifting Sands" POLYDOR 2371 323 (1972)
---
Links:
Moe Armstrong's web site

---