---

Climax Chicago Blues Band: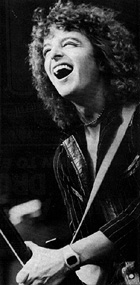 Founded in 1968 as a sixpiece, playing straight blues and bluesy rock.
Steady line up centered around guitarist Peter Haycock (who many years on recorded the first guitar album on the all instrumental NO SPEAK record label). Pete picturered right doing promo for Westbury guitars in a 1981 magazine ad.
Later on the group dropped the limiting 'Chicago' label and changed group name to Climax Blues Band - and found success on the U.S. market.
But time flies - and in '89 they gigged at "The Tramshed" in Woolwich and in '93 at "The Half Moon" in Putney - back on the U.K. trail.
---
In "The Rolling Stone Record Guide" issued in 1979 Alan Niester writes:
"The basic sound is jazz-rock-blues, and it has changed only in minor ways since Climax formed in 1968. The early records are blues dominated (as is "FM Live"), but on recent LPs Colin Cooper's reeds begin to assume parity with the guitars."
Sorry: there's nothing in my singles box!

Period Albums - from the beginning:
"Climax Chicago Blues Band" PARLOPHONE PCS 7069 (1969)
"Plays On" PARLOPHONE PCS 7084 (1969)
"A Lot Of Bottle" HARVEST SHSP 4009 (1970)
"Tightly Knit" HARVEST SHSP 4015 (1971)
"Rich Man" HARVEST SHSP 4024 (1972)
"FM/Live" POLYDOR 2383 259 (1974)
"Sense Of Direction" POLYDOR 2883 291 (1974)

Links:
The Official Climax Blues Band Web Site

Steve Kennedy for info and bookings

---